You have just bought your first house or perhaps you are doing some touch-ups on your kitchen. At some point, faucets will also need a bit of attention.
They do break down every few years, which is quite normal. You want something qualitative that will last for many years, without compromising the look of your kitchen. You might feel doubtful when you check the prices though. At this point, you probably ask yourself, why are faucets so expensive?
There are more reasons wherefore quality faucets from reputable manufacturers are more expensive than cheap units. Sure, you could find a faucet for the price of a three-course meal in a decent restaurant, but chances are it will quit on you after a year or two.
It will leak, get stained, and no longer turn off after a while. On the other hand, a quality faucet will last you for many years. The value for money is better. The quality standards are higher.
Overall, it is cheaper to buy a quality unit in the long run. The good news is you can find excellent middle options too, which provide even better quality for money.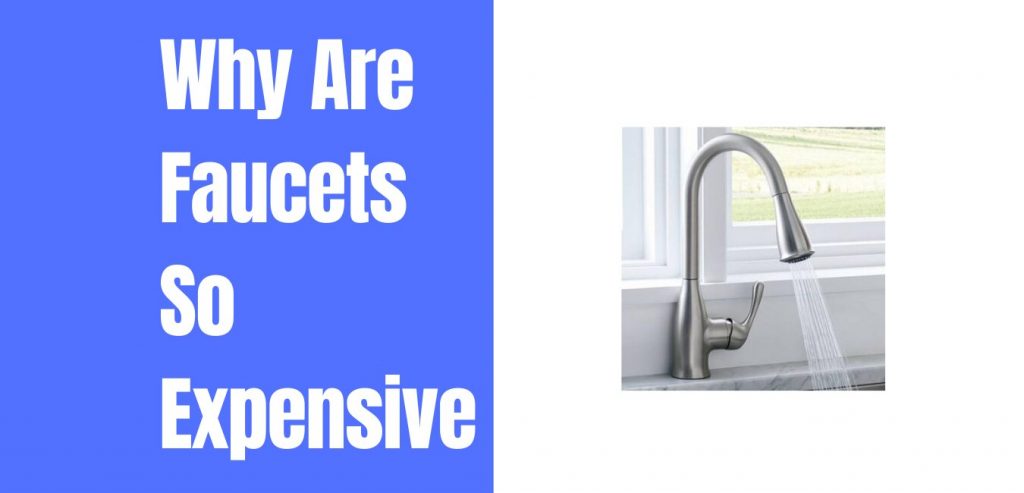 Comparison table
Our picks –
Why Are Faucets So Expensive?[Cheaper Alternatives]
Here are some of the top rated faucets that will not cost you a fortune.
Keonjinn will cost a fraction of a high-end faucet and it will provide years of everyday usage – hence it's rating. You might ask yourself then – why are faucets so expensive when they can be done for little to no money?
This model is available in two finishes – matte black and brushed nickel. It is based on 304 stainless steel, which adds to the protection against leaks. You can swap between a stream, a spray, or pause – small control on the tip of the spout.
The high arc design comes with 360 degree swiveling capabilities if you need more space. On the other hand, the sprayer head can be pulled down for extra convenience. It mounts back with no issues whatsoever.
Talking about convenience, you only have one handle for everything. Use the handle to change the water pressure or the temperature. Fewer parts give you more space around the sink, but you are also less likely to experience issues.
As for the installation, it makes no difference what kind of system you have. All hardware is included in the package, so it makes a good DIY project. You can opt for a single-hole installation, as well as the three-hole alternative. A 10-inch deck plate is included.

Peerless has designed some of the most efficient kitchen faucets – whether you count the material, the size, or the compactness. This model is extremely compact and makes a good choice for those without too much space – especially above the sink.
The unit measures 9.5x10x7.5 inches. It is available in two different finishes – chrome and stainless. Choose the right one based on the décor of your kitchen. There are no differences in the operating principles or functionality though.
You have a single-handle design. The handle goes up, down, left, and right, so you can control the pressure and the temperature. It is convenient and more importantly, there are fewer parts that could break down.
The faucet is designed to match three-hole installations – eight-inch configurations. The package comes with detailed instructions, so you can easily do it yourself. The deck plate is obviously included in the package and matches the finish of the faucet.
Maintenance is relatively simple – just use a clean cloth if you see any fingerprints or hard water stains. Other than that, there are no fancy bells and whistles.
Sure, you could do with more sophisticated alternatives, but this basic faucet will get the job done for a low price. We also did a thorough research on the best peerless kitchen faucets in the market. Do check them out.

Hotis Home is the type of manufacturer that can debunk kits. You look at its faucet – it looks professional, it feels professional and it lasts for ages. Then, why are faucets so expensive? Sometimes, you mostly pay for the reputation of the brand.
All in all, this unit features a high arc spout. Overall, it is 6.1 inches in height. The spout can reach almost four inches. You have two different handles to control the hot and cold water. A single handle would be slightly more convenient, but this design looks more appealing.
The faucet is based on stainless steel for great durability. Also, it has a ceramic disc for a smooth stream, with no drips or random splashes The brushed nickel and ceramic disc valve will easily face corrosion, prevent leaks, and resist scratches, wear and tear.
When it comes to the installation, it is classic. If you have replaced a faucet before, you should have no problems whatsoever. The deck plate is obviously included – given the number of lines, you should have a three-hole installation.
In terms of maintenance, there is not much to do. If you have hard water, it might stain the faucet. Simply give it a quick cleaning with a cloth.

Pacific Bay has designed one of the most cost-efficient kitchen faucets on the market. You have a classic and elegant design, as well as two different finishes – chrome or nickel. Chances are it will become the focal point of your kitchen.
The faucet features a high arc design and a good clearance. There are two handles – one on each side – for better temperature control. Other than that, the deck plate is included in the package. The spout swivels to 360 degrees.
The faucet is lead-free certified. It brings in a mix of metallic plating, brass, and a bit of hard ABS plastic, so it is likely to face the test of time. Its water flow is above average for this price segment – 2 gallons per minute.
When it comes to the installation, you will be able to do it yourself, without hiring a plumber. The design is lightweight and easy to handle. It works on classic two and three-hole sink openings – eight-inch configurations.
As for the maintenance, clean cloth to clean fingerprints and hard water stains will get the job done in no time.

If you want to make a statement with something fancy and shiny that will not cost a fortune, this is your best option. This luxurious faucet from Kingston Brass makes you wonder – why are faucets so expensive when you can get all these at such a low price?
Value for money is quite high – just look at the design and you will fall in love with this faucet. Everything is simple but well put together. There are two handles, so you have deeper control of the water temperature and pressure.
Other than that, the spout is short – 5-9/16 inches. Its reach is quite good – 7-11/16 inches. It is worth noting the package includes a side sprayer too. The sprayer is black and comes with a quality hose, while the rest of the faucet features a chrome finish.
The water flow is good – 1.8 gallons per minute. You have a hybrid waterway design to match low lead laws and regulations, as well as a durable cartridge that will prevent leaks. You can opt for a two or three-hole installation.
There is not much maintenance to do, but keep in mind that chrome can take stains – a clean cloth will help you get rid of them though.
Final Words
So, why are faucets so expensive? Hard to tell. Even if you get a high-end unit, it will not last you for a lifetime.
It will last for a few more years though, but at the end of the day, you have to count the value for money and the labor involved as well. The above-mentioned products are among the top-rated units in the middle-priced segment and can easily compete against more expensive alternatives.