Most people find it difficult to enjoy the taste of tap water. You can literally taste the chlorine, while the odor makes it feel unhealthy.
Bottled water is a decent alternative, but the amount of money you spend on it will simply justify getting a water filter for pull out faucet instead – it will pay by itself within months or even weeks. After all, who wants to drink water that smells and tastes like it is from a pool?
While such filters are small and compact in size, they are also extremely efficient. They are installed on the tap and water is filtered as it goes.
The pressure might drop a little, but the difference is insignificant and totally worth the result. Most such filters are easy to install, so there is no need to seek plumbing help for the process. Now, what are the best options on the market and why?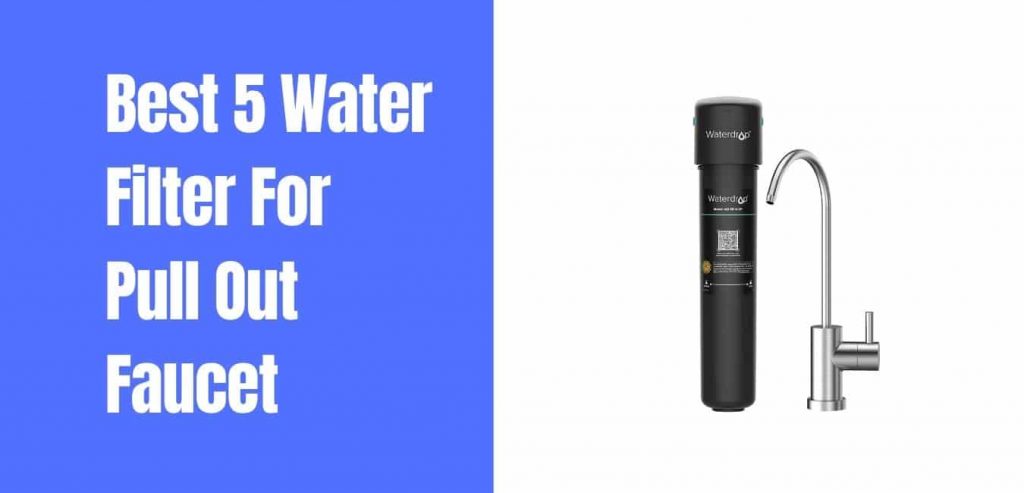 Comparison Table Of The Best 5 Water Filter for Pull Out Faucet
Top 5 Water Filter For Pull Out Faucet
Here are the best rated water filters based on our reviews.

Waterdrop's filter features a modern NSF 42 certification and reduces the amounts of chlorine, as well as the odor and taste. It can remove heavy chemicals, particles, and chemicals from your tap water. It has an incredible filtration accuracy of 0.01μm due to its Ultrafiltration membrane.
The activated carbon block ensures a safe filtration process, not to mention the sanitary profile of the filter. Materials are lead and BPA-free. It goes under the sink and comes with its own faucet too – brushed stainless steel. There is also a variant of this system for those who do not want to replace their faucets.
The installation is fairly simple and involves connecting the filter to a cold water supply. Fittings are straightforward – they click in. The whole process should take less than five minutes without any tools at all. You also have a few adapters in the package.
Last, but not least, it is worth noting that the flow rate will not be negatively affected – you can still get 0.75GPM at 60PSI. Given its compact profile, easy installation, and efficiency, the system can be used in both residential and commercial facilities, as well as recreational vehicles.

Compared to other filters in this price range, this one has a major advantage – it provides excellent value for money in the long run. Basically, there are no ongoing costs because you do not need any replacement filters. The package includes everything you need to fit it properly, without a plumber.
Featuring granulated activated carbon, this filter will reduce the chlorine in your tap water from the first use. You will notice a major difference in the odor and taste – the water feels fresher and smoother. It can reduce chlorine by up to 97%. It will also filter volatile organic compounds and sediments from water.
The filter has an impressive lifespan and is rated to last for over 10,000 gallons of freshwater. A family of four will need about 10 to 20 gallons of water a day for consumption and dishwashing, meaning the filter could last for around three years with no issues at all – value for money again.
The installation is straightforward and requires no experience whatsoever. You have a stylish valve that can be attached to all standard faucets. The manual of instructions is quite detailed and provides illustrations on how to perform the installation like a pro.

You simply cannot go wrong with ESOW's water filter for pull out faucet. Featuring food grade SUS304 stainless steel, its housing can pass the ASTM standard and will never release any harmful chemicals into your water. There is no deformation, rust, corrosion or cracking involved – no maintenance either.
The filtering function stands out in the crowd. The unit comes with activated carbon and ceramic filter that will remove about 99% of all odors, sand, rust, chlorine and sediments. The taste of your tap water will change overnight – fresh and smooth, just like bottled or spring water.
Despite reducing the water flow a little, the water filter will not make it frustrating. You still have a high flow design – about 10 cups per minute. In terms of durability, the purifier will give you 1,000 gallons of water – it will usually work flawlessly for about a year, meaning it brings in good value for money.
The design is attractive and the installation will feel fairly simple. There are two outlets that can be switched and controlled. The installation does not require any tools either – there is no need to work on the sink or make any alterations, so you can do it yourself, without hiring a plumber.

Brita's faucet water filter compatible with pull-out faucet works on some very simple principles. It can attach to a classic faucet and start filtering straight away – better taste and smell from the first use. The filtration system can be installed within minutes only – you do not require any tools for it.
Brita's system reduces waste and provides the taste associated with spring water. You can save the money for up to 2,000 single-use water bottles a year. The system will literally pay by itself in weeks only. You should replace it every four months or 100 gallons – whatever comes first.
The design attaches to the faucet, giving you the opportunity to choose between filtered and unfiltered water. After all, you do not need to filter the water for your dishes or washing your hands.
It also has a filter indicator that will remind you when to replace it. Keep in mind that it does not fit spray faucets. While not suitable for all pull-out faucets, slight adjustments will make it work.
In terms of efficiency, Brita's faucet filter will reduce about 99% of all asbestos, benzene, lead, chlorine and other small particles. It measures 5.2×4.8×2.2 inches and weighs less than a pound, so it is compact and easy on your fixtures.

Frizzlife's water filter for pull-out faucet works in two different stages. It has a superior filter that removes 99.99% of all contaminants. The technology is unique and clears out mercury, heavy metals, lead, VOCs, carcinogens and other contaminants, while leaving all essential minerals in your water.
The filtration system can match 3/8 and 1/2 inch systems without any adjustments. The installation is fairly simple and goes under the sink. You do have some converter fittings, but the detailed manual of instructions will show you precisely where everything goes – no need for sophisticated tools or plumbers.
The filter cap has an automatic shutoff valve. It comes in handy during the installation, as you no longer need to work on the water supply before replacing the cartridge. Both the installation and cartridge replacement procedures will take a few minutes of your time only.
Other than that, it is worth noting the good flow rote – more than 2GPM at 40PSI. It is excellent for cooking, washing foods and cleaning dishes. In terms of value for money and durability, this filtration system will last for a couple of years or about 1,600 gallons of water – whichever comes first.
What To Look For When Choosing The Best Water Filter For Pull Out Faucet
Choosing the best water filter for pull out faucet is not as difficult. Most filters can match standard fittings and connections, yet there are a few things you need to take in consideration.
Filter change sensor
Not all filtration systems come with replaceable filters. Some of them are inexpensive and require no maintenance – you simply replace the whole system. Others come with filters that must be changed regularly. While you will get some time frames regarding the changing requirements, a sensor to notify you about it is much more efficient.
Filter lifespan
The longer the filter lasts, the better. If the filter needs replacement once a month, chances are it will cost you a fortune in the long run.
The longer it lasts, the less money you need to spend. Sure, it is still cost-efficient compared to water bottles, but you want as much value for your money as possible. Opt for a filter system that can be replaced within minutes only.
Swiveling features
Some filters swivel to 360 degrees, while others do not swivel at all. The fixed ones are not very convenient when doing the dishes, especially if you have large trays and pots. A filter that swivels will clear out this problem and add to your comfort – it may not make sense when you buy the system, but it will prevent lots of frustration.
Finish
Finally, unless the filter goes under the sink, you should also consider the finish. Choosing a filtration system in the right finish can help you maintain the overall décor of your kitchen.
Luckily, most of these things are neutral in appearance, yet you should still stick to something that will match other fixtures and appliances.
Frequently Asked Questions
Still unsure about the right water filter for pull out faucet?
Are faucet filters worth the money?
A water filter for your faucet will cost as much as five to ten cases of bottled water and it will last for months or even years, so it is totally worth the investment.
Are faucet filters better than pitchers filters?
Generally speaking, faucet systems have more qualitative filters than pitcher systems, so the choice is more cost-efficient.
What happens if I fail to change the filter?
All the bacteria and particles in the filter will end up leaking in your water, while the water will no longer be clean if the filter is full.
Will a water filter affect the taste of water too?
Apart from removing contaminants that do not affect the taste of your tap water, a filter will also remove chlorine and other particles that negatively affect the taste.
How do you install a PUR water filter on pull out faucet?
Different filters have different requirements, yet the operating principles are alike. Check the manual of instructions if not sure. Generally speaking, you should have the water valve off, then install the filter on the actual faucet or under the sink.
Conclusion
Bottom line, a water filter for pull out faucet will make the difference in the long run. While it does come with some costs in the long run – new systems, filters, or cartridges, it will still outweigh the costs of bottled water. Even if you do not drink bottled water, you will love the new taste and odor – your tap water will feel like spring water.
If you enjoy reading , do check out the best water filter for lead removal.