Finding a good faucet can be a challenge. You can buy one from the nearest hardware or DIY store for less than a two-course meal, but chances are you will have to replace it after a year or two.
On the other hand, you can also spend more and invest in a quality item that will last you for many years. It is more cost-efficient, it looks better and it brings in no frustration at all. There are lots of Peerless faucet reviews out there to help you make a decision, but is this what you truly need?
There are a few brands that dominate the market in terms of quality standards and Peerless is one of them. It has some of the most durable faucets out there, as well as all kinds of designs to match any type of décor. However, a little research is still mandatory before making a final decision.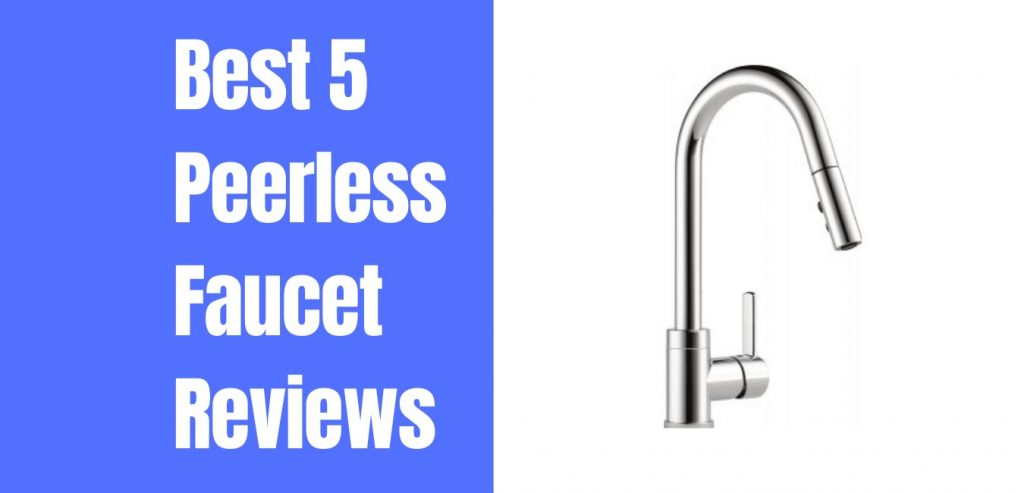 Our Picks – Top 5 Peerless Faucets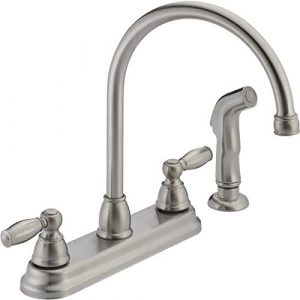 This is one of the most durable options from this brand based on a plethora of Peerless kitchen faucet reviews. It comes in a beautiful chrome finish that will match most décors. More importantly, it will withstand all kinds of stress – can resist stains and fingerprints.
It features two handles – one for hot water and another one for cold water. A side spray is excellent for jobs involving large items, such as massive cookware or big pieces of food. The spout is quite tall and measures eight inches, not to mention the nine-inch reach.
The deck plate is subtle and included in the package. The maximum deck thickness is 2.5 inches. You will need to assemble this unit and install it, but the good news is you can do it yourself, without any external help. There is no need to hire a plumber for the job – it makes a good DIY project.
Despite the long spout, the water flow is quite impressive and way above the average of this industry – going up to 1.8 gallons per minute. It is also worth noting that the faucet is lead-free compliant, so there are no worries regarding chemicals leaking into your tap water.
There is not much maintenance required for this faucet. The sprayer has rubber nozzles, which might be affected if you have hard water. A clean cloth or your finger will clear out limescale deposits though, so there is nothing to be concerned about.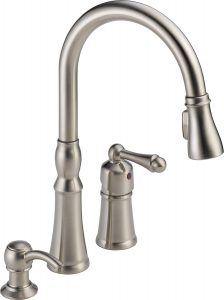 There are plenty of Peerless faucet reviews regarding this model and it is easy to tell why. It features a lifetime warranty and it comes with a simplistic, yet beautiful design that no one can resist. It is just as impressive in terms of performance as well.
The unit features a high arc and a pull-down design. The spout will swivel to 360 degrees, so you got plenty of room for large cookware or pieces of meat. There is only one handle to control the faucet – the same handle for the water temperature and the water flow.
There are two other handles included. One of them is a soap dispenser – what could be better than a built-in soap dispenser to match the faucet? Exactly! The other one is not really a handle, but a sprayer. You got a powerful stream of water through the faucet, as well as a powerful sprayer to clean large pieces of food.
The installation should not take you more than half an hour, even if this is the first time you install a faucet. It will work with both two and three-hole configurations. You would have to get standard supply lines separately though, as they are not included in the package.
As for maintenance, there is not much to do. You can use your finger to clean the sprayer holes. Plus, it is less likely to get fingerprints or stains from hard water, which adds to its beauty. There is no need for chemical cleaners.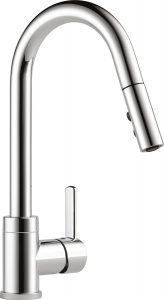 This model is your ideal choice if you are after simplicity – no hassle, no fancy bells, and whistles, but just a simple and efficient faucet. It is available in two different finishes. The chrome finish is the most popular one because it goes with everything. On the other hand, the stainless steel finish will maintain its looks better.
The faucet can be installed in more configurations. It will work on single-hole configurations, but also on three-hole configurations. If you have a three-hole design, you will have a deck plate in the package to cover everything – the deck plate is optional though, so you need to double-check before you order.
The unit is extremely flexible. It has a high arc design that swivels to 360 degrees. It is tall, so you can use it for large pots or big pieces of food, such as turkeys. Turn it around if you need even more space.
Worried about turning big pots around when cleaning? The sprayer features a retractable hose for extra convenience – the hose measures 20 inches in length.
The spray has impressive pressure. The water flow will not let you down either. The steady stream of water will come at 1.8 gallons per minute, so it is above average. Switching between one mode and the other is fairly simple.
Maintenance will not give you too much headache either. You only need a clean cloth. When it comes to the sprayer nozzles, hard water limescale can be cleaned with your finger only. Just rub it against the nozzles to clear them if they get stuck.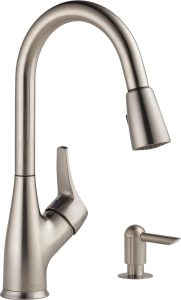 Based on a series of Peerless faucet reviews, this unit can be described in two different ways. First, you have a subtle and simple design that can match any type of kitchen. Second, you will no longer have to buy soap dispensers in all kinds of designs, as this faucet comes with a matching dispenser.
The unit fits all kinds of configurations, including four-hole eight-inch installations. The installation is fairly simple – you can do it yourself. There is no need to call a plumber – the whole job will take you about half an hour.
The gooseneck design allows a good clearance under the faucet, so you should have no issues with large pots or pieces of meat. There is only one handle to control both the water flow and the temperature. The flow rate is set at 1.8 gallons per minute. The ceramic valve ensures there will be no leaks whatsoever.
Other than that, it is worth noting the sprayer as well. The sprayer is fitted at the end of the spout. You can take it out, as it has a 20-inch retractable hose for convenience, whether you have to clean large things around or you want to rinse your sink.
When it comes to maintenance, touch cleaning is more than enough for the rubber nozzles of the sprayer. The rest of the faucet does not need too much, as it is less likely to get fingerprints or hard water stains. If it does, just use a clean cloth.
This model features a high arc spout and an impressive working area. Whether you need to clean a turkey or a massive pot, you should have no problems with it. It has a simplistic design and an appearance that will easily match any kitchen out there, regardless of the décor.
You can opt for a steady stream of water, as well as a sprayer. The pull-down wand has a small button that switches between one mode and another, so it is convenient to use. Other than that, the faucet comes with one handle only – the same handle for temperature and flow.
The faucet is water efficient. In other words, the water flow is not the highest on the market, but you can easily get the job done. Simply switch the sprayer on if you need a bit of extra pressure. All in all, you have a gallon per minute.
The sprayer comes with integral check valves. You can install it in two-hole configurations for a clean appearance. There is no need to hire a plumber for the job. Furthermore, you can do it with half an inch IPS connection.
The durability of this faucet is impressive – one of the most common aspects behind Peerless faucet reviews. Featuring brass, it is likely to last for ages.
It does not require any maintenance, just a clean cloth if you see any stains due to hard water. If the nozzles on the sprayer get stuck because of limescale, simply rub your finger against them. There is no need to use any harsh chemical solvents or products.
Buying Guide – What To Look For When Buying A Peerless Kitchen Faucet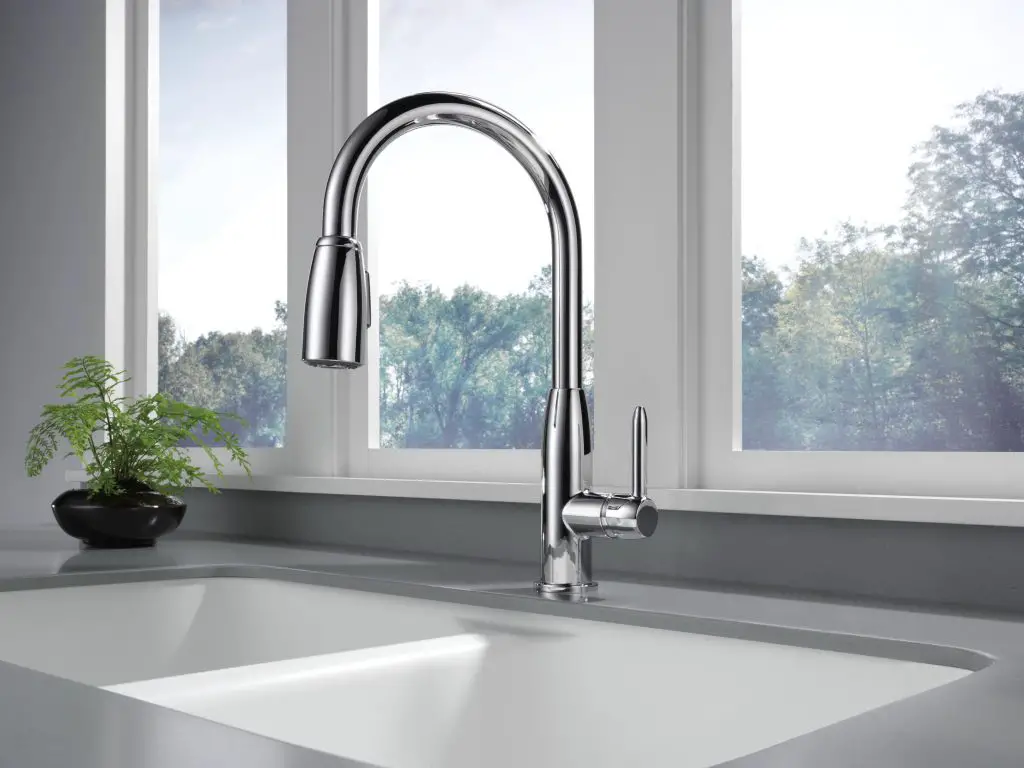 Buying a Peerless faucet involves a bit of homework. You need to assess your needs, but there are also a few considerations that can influence your final decision.
Style
Consider the kitchen style, as well as the sink style. If you have a classic cast iron sink, you simply cannot match it to a modern high-end faucet, as it will look bad. Unless you want a completely unique look, you should avoid such a combo. On the same note, a modern shiny sink would not go well with a vintage bridge-style faucet.
Spout

According to Plumbing Supply, the spout height and reach are just as important. A high arc is very popular these days. It gives you a good clearance, but make sure there is plenty of room above the sink.
If you have hanging cabinets, you may want to measure everything upfront. On the other hand, the size of your sink will help you determine the optimal reach. If you have a massive sink, you will need a faucet with a reach above the average.
Holes
If you decide to keep the current sink, you should double-check the number of holes it has. Many faucets today come with flexible installation options.
For example, they have a plate to cover the extra holes, but this is not always a general rule. If your sink does not have enough holes, drilling extra holes could be a nightmare. Therefore, check the sink first and then you can make an informed decision – otherwise, you might regret your investment.
Finish
The finish is strongly related to the style. You will usually find chrome, nickel, or bronze, but other options are also common. Consider the cabinet hardware, not to mention lighting or other metallic finishes around your kitchen. It does not have to match, but make sure the faucet finish works with whatever you have around the kitchen.
Bells and whistles
A sprayer could be an excellent tool, as it can clear out the mess for you and help you clean large objects – like big pots or turkeys. Whether the sprayer is separate or built into the faucet, it makes no difference at all. Luckily, many Peerless faucets come with sprayers by default.
Handles
How much space do you have? Are you up for something simple or do you want a new focal point in your kitchen? Traditional faucets come with a couple of handles – one for the temperature and another one for the flow. Modern faucets come with one handle for everything.
Value for money and ratings
There are lots of Peerless kitchen faucet reviews out there and they claim excellent quality. While these faucets tend to cost more than cheap no-name products, they will last for years, so the investment brings in good value for money.
Frequently Asked Questions
While most Peerless faucet reviews could give you some good hints about what to expect, you may still have a few questions.
Why do faucets lose water pressure with time?
Chances are you have mineral deposits. If you have hard water, minerals in its composition tend to restrict the water flow, so they require regular maintenance.
What is a good water flow?
Anything around 1.8-2.2 gallons per minute will ensure good pressure. It is more than enough for most residential households. More than that will give you more efficiency. You can also find quality kitchen faucets with a lower water flow – excellent to save some money on your water bills.
How many mounting holes does a kitchen faucet have?
Kitchen faucets have anywhere between one and four mounting holes. You will need a hole for the spout and another two holes for the handles – just one if you have one handle. The fourth hole is usually set for an extra feature, such as a soap dispenser or a sprayer.
How do you change a three-hole sink to a single hole sink?
Many faucets come with a plate that will cover the extra holes if your sink has more holes than what you need. Sometimes, you may have to buy it separately, so double-check upfront.
Conclusion
Bottom line, there are plenty of Peerless faucet reviews that can influence your final decision. One thing is for sure though – you can leave yourself in good hands in terms of quality and durability. Everything else is a matter of convenience, compatibility and personal preferences.
Make sure the faucet you get will match your sink, but also pay attention to the style of your kitchen and other metallic finishes around. Once you have these covered, consider your convenience and you are only one step away from making a great decision.