Moen and Delta are some of the top leaders in the market when it comes to kitchen faucets. They both provide high-quality standards, excellent materials, and great technology, not to mention features, styles, and value for money. Either Moen or delta, chances are you will make a good decision for your household.
However, you want the best of the best. So, which is the best luxury kitchen faucet? Lots of people research everything they buy from furniture to smartphones. But when it comes to kitchen faucets, they overlook plenty of small details. They go with the style, but they forget about the actual quality, so disappointment will inevitably kick in rather sooner than later.
I was in the exact same situation until I realized I had to get a brand new faucet every 12 to 18 months. At this point, value for money became my primary concern. Now, what should you know before making a decision regarding your new kitchen faucet?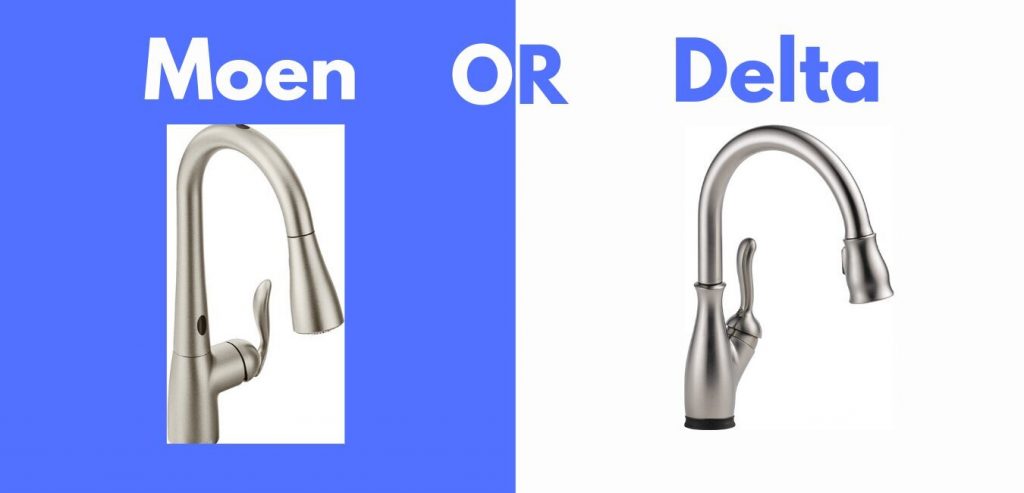 So Which Is The Best Luxury Kitchen Faucets, Moen or Delta ?
Before researching the best luxury kitchen faucet from these top brands, I decided to research a few aspects that define them first. You are about to find out more about the features targeting the top-rated products from both brands, as well as technologies defining them, bells and whistles, standards, and warranties.
While deciding between Moen or Delta, you will find dozens of products from each brand. It is perfectly normal. To make sure I get the best, I put together the top-rated products from each of them based on ratings over a few shopping websites – Moen 7594ESRS Arbor and Delta Faucet Leland 9178T-AR-DST, both of them with excellent scores.
On the other hand, I paid attention to the number of reviews too. You can find both faucets with dozens or even hundreds of reviews over the Internet. The above-mentioned models come with thousands of reviews. The more websites you research, the more reviews you find. It was pretty obvious to me, these are the top-selling products.
Now, which one of them is the best? Which one provides the best value for money? Which one is likely to face the test of time?
Styles and Designs

The possibility to choose between a few different styles is quite important. I am not saying you have different shapes, but different finishes and colors. At this point, it is almost impossible to fail in finding something suitable for your kitchen. Whether you have a traditional style or a simple modernist one, both Moen 7594ESRS Arbor and Delta Faucet Leland 9178T-AR-DST will give you some options.
Delta's best luxury kitchen faucet comes in four styles. The arctic stainless style is the best selling one. It is classic and has a slightly matte appearance, which would look good in any kind of kitchen unless you have lots of chrome in yours. You also have chrome and spot shield stainless styles, which are relatively similar. One of these styles stands out in the crowd through the Venetian bronze.
Moen's best luxury kitchen faucet is just as attractive and also features four different finishes. The spot resists stainless appearance is the most popular one. It is similar to the chrome finish (also available), but not that shiny. Two other styles include the matte black finish and the oil-rubbed bronze finish. The oil-rubbed bronze looks stunning, but it can match certain décors only.
At this point, either Moen or Delta are excellent because they provide different styles in various colors and levels of shininess, so you can easily find something to match your kitchen.
Water Flow Technologies, Which has great technologies, moen or delta?
At this level, both faucets come with great technologies that will make a difference. If you are not 100% familiar with them, it will take you a few days to get used to them. There are certain movements you need to make and figure out yourself what kind of sensitivity or speed you need. Nothing to worry about, you will understand what I am talking about as you go through the next paragraphs.
Delta has a touch on and touches off technology. Are your hands too messy? oily? covered in grease? The last thing you want is to spread all that mess over your new shiny faucet, right? At this point, you do not have to struggle to turn the water on by catching the handle between your wrists.
Instead, simply tap the spout. You can tap it with your forearm or perhaps your wrist. The water flow will start or stop with a simple touch.
Sure, you can use the handle as well, but you do not want to do it when your hands are covered in greasy oils. Not sure about the water temperature? The 7594ESRS Arbor has a temperature indicator – a TempSense LED light that changes its color according to the temperature. You can check it before you even tap the spout.
Delta takes this venture a bit further. The Leland 9178T-AR-DST might be the best luxury kitchen faucet if you want fancy bells and whistles. It comes with two sensors, yet you can also purchase the version with one sensor. Anyway, as you have probably guessed already, the experience is touch-free. A simple hand movement will trigger the flow straight away.
Spraying Features
Both brands have turned spraying features into standard capabilities these days, as most of their top-rated faucets come with these elements.
Moen's 7594ESRS Arbor has the so-called Reflex technology, which allows a simplistic movement and excellent docking. It feels secure and stable – regardless of how intense the water flow is. The system is also enhanced with the Power Clean spraying technology, which offers 50% more power when compared to other units in this segment.
Delta has not gone too far with its Leland 9178T-AR-DST either. It brings in the MagnaTite Docking technology. It features powerful magnets on both the sprayer and the spout. The docking mechanism is flawless – nothing to break down, nothing to enlarge, and nothing to go loose.
These magnets will work forever, which is a serious plus when compared to other faucets.
Durability and Long term Usage
Obviously, it is impossible to tell how durable one faucet or another might be without actually using it. But then, there are a few hints here and there that can give you an idea about what to expect when undecided between Moen or Delta.
Moen's 7594ESRS Arbor faucet is metallic. It comes with metallic components, so it is less likely to quit on you too soon. As you grab it, you can tell is it going to last. It weighs five pounds. As you may know already, durable and quality materials are never lightweight. This unit is way heavier than average, so you can count on good long-term results.
On the other hand, the Leland 9178T-AR-DST faucet from Delta weighs over eight pounds. It has a patented diamond seal technology to reduce leaks. Moreover, it is rated to last two times more than standard models in this range. Its leak-free operation is based on the industry-standard Asme A111.18.1 and it covers 500,000 cycles.
Warranty between MOEN VS DELTA
Both brands rely on limited warranties. Practically, your product is under the warranty if properly looked after, so double-check all the aspects related to it. For instance, if you are asked to clean calcium buildup and fingerprints with a soft cloth and lukewarm water, make sure you stay away from solvents and harsh chemicals or you will void the warranty.
Delta comes with a five-year limited warranty. It is quite standard for the brand, so most products come with it. Given the warranty, the faucet is likely to last way longer than that.
On the other hand, Moen seems to be more confident in its products. Most of them come with a limited lifetime warranty. Limitations are relatively basic though. All in all, the general idea is that looking after your Moen faucet might give you a product to support your kitchen for a lifetime.
Installation
The installation is another important aspect to take into consideration, at least for me. The way I see it is, you spend a few hundred dollars on a faucet, so you do not want to add another 50% to its price by paying a plumber another $100 for the installation. You either want something basic and specific that plumbers can install within minutes or a product that can make a good DIY project.
Whether you choose Moen or Delta, you will find out they are extremely simple to install. If you have a thing for DIY operations or you have changed a faucet before, you will get this job done within half an hour (assuming you have no experience).
Both 7594ESRS Arbor and Leland 9178T-AR-DST are easy to install and feature a flexible design. Whether your sink features one or three holes, these units will go it. Moen's faucet also comes with the escutcheon in the package, so you do not have to buy it separately.
On the other hand, Delta also throws in a deck plate. If you have a three-hole sink, simply use the decorative deck plate to cover the unused holes. Just like you have probably guessed already, the plate will match the exact same design – it depends on the finish you choose.
Water Flow
I know most people never pay attention to the water flow, but this is an important consideration. You have probably been there before you get a new faucet, so you are happy once it is up and running. But with time, you realize the pressure or flow is not as good as you expected.
Whether you are after Moen or Delta, you will benefit from an excellent flow – not impressive, but way above average. The best luxury kitchen faucet from Moen has a classic 1.5GPM water flow more than enough for pretty much any operation involving the faucet.
On the other hand, Delta's Leland 9178T-AR-DST provides higher pressure at 1.8GPM. The difference is noticeable, but it will not make a difference in your overall efficiency.
Maintenance
This is another aspect you have to pay attention to. Failing to maintain your faucet may lead to calcium buildups, as well as stains and spots. On the other hand, using chemicals or commercial cleaners may damage the finish, meaning you risk voiding the warranty. Simply stick to the manufacturer's instructions – usually just water and a clean cloth.
Moen has come up with a spot-resistant design, meaning fingerprints, spots and stains are less likely to become too obvious. A simple swipe every now and then will add to the overall appearance. Delta has similar finishes, but only the spot shield stainless style is rated to be really efficient against stains and spots.
Handle and Spout
While more handles may seem fancy and sophisticated, the truth is you want simplicity and convenience. It is hard to determine a winner here because both brands have implemented single handles on their top-selling products. You can control the water flow and temperature from one handle only.
Moen's faucet has a slightly taller spout, so you get a bit more clearance when you use it. You can work with large pieces of food or cookware in your kitchen without worrying about hitting the sprayer. The difference is relatively small though.
Conclusion of Moen Vs Delta
Bottom line, deciding between Moen or Delta can be tricky when trying to hunt the best luxury kitchen faucet on the market. Both Moen 7594ESRS Arbor and Delta Faucet Leland 9178T-AR-DST are likely to impress.
Similar in terms of features, Delta seems to be a bit lower in price. In fact, Delta has always been the cheaper alternative to Moen, but without compromising quality. The final decision? Totally up to you and based on nothing but your personal needs.