When it comes to kitchen faucets, there are two things you are after. First, you want them to be practical and get the job done. Second, you want them to look good and match the décor of your kitchen.
In terms of style and design, there are plenty of solutions out there. Things are a bit different with practicality, as different people have different needs. Over the past years, the long reach kitchen faucet has become a priority though.
A long spout reach kitchen faucet allows handling large items without worrying about the space. At the same time, it is excellent for large families that may not have enough room for all the dirty dishes in the sink. It is great for large cookware, chicken, turkeys, and so on.
Plus, you will no longer have to struggle filling up your gym bottle. All in all, with so many options out there, choosing the best one could be tricky. So, what are the best-rated long neck faucets on the market and why?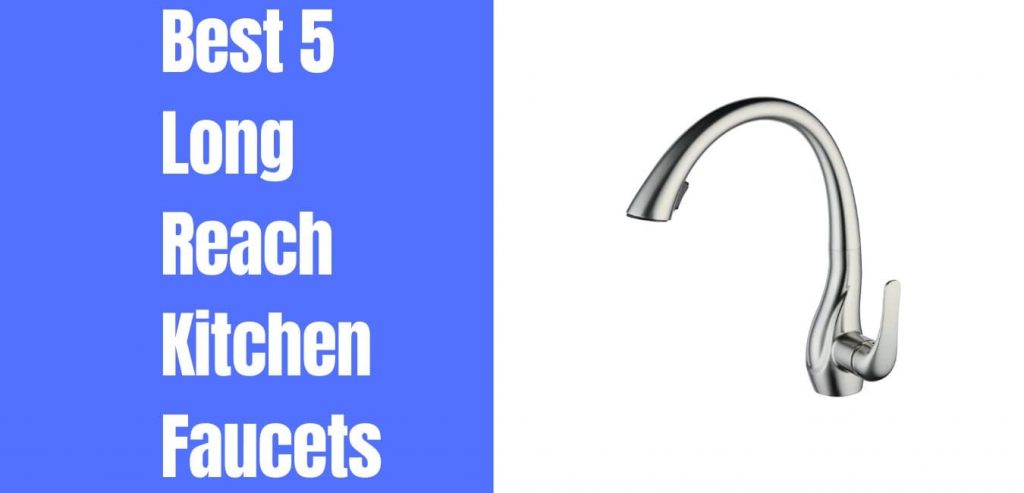 Comparison Table Of The 5 Best Long Reach Kitchen Faucets
Our Picks of Kitchen Faucet With Long Spout Reach
These are some of the long reach kitchen faucets with the highest numbers of reviews and an exquisite reputation. As they work for hundreds of people, they will probably work for you as well.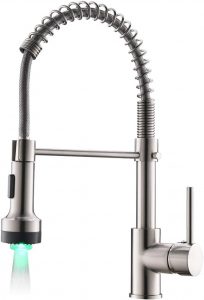 Aimadi's leading long reach kitchen faucet comes with brushed nickel and a LED design that changes color based on the temperature. Its main role is to prevent you from getting burnt whenever the water is too hot. The LED light is operated by the water flow, so you do not need any batteries.
The nickel design is fancy and looks luxurious. It also has a pull down head that allows spraying inaccessible areas. For instance, you no longer need to turn a turkey or a chicken around in your sink. Instead, pull the head out and spray it on all sides while washing it.
Whether you have a double sink or you want even more space, the faucet has a 360 degree swiveling capability, so you can always take it out of the way. It will work wonders on double bowl sinks though. As for the actual tap water, there are two modes.
The faucet is designed to be drip free. Also, the installation is a matter of minutes, with or without experience. You have everything you need in the package, not to mention cold and hot water hoses. Unless you cannot be bothered, you will not need to hire a plumber.
Durability
There is not much to worry about when it comes to durability. The faucet is mostly based on brass, which is likely to last for ages. It features a ceramic valve – excellent to prevent dripping. You only have one handle for everything – temperature and flow, so there are less parts to potentially break down.
The spray has 20 rubber holes. They are easy to clean and maintain in good condition. You will love the LED light, as it lights up the actual water by the head, which looks quite futuristic. It is important to know that brass is lead free, so your water will be safe to drink.
Kraus is one of the leading names on the market when it comes to faucets and its long spout reach kitchen faucet is not just good looking, but also practical and likely to pass the test of time – plus, a few bells and whistles.
The unit features a spot free finish. The stainless steel is treated to resist water spots, as well as fingerprints. You can find the faucet in other designs too, such as chrome and white or stainless steel and matte black.
Despite having a long neck, the faucet is less likely to cause any trouble or drama. It is optimized to fit into kitchens with hanging cabinets. There is a 90 degree forward rotation, so you can install it in a tight place too. The spout is nine inches in height.
The head features a dual function – you can have an aerated stream, as well as a powerful spray. Nozzles are easy to clean and you should actually look after them if you have hard water, as minerals tend to build up.
Flexibility
You can take the head out and benefit from an 18 inch hose – lots of flexibility to clean that large turkey or oversized cookware. Fitting the head back in is fairly simple, as it features magnetic docking. As for leaking, you get a ceramic cartridge to prevent such problems.
Last, but not least, it is worth mentioning that you will not need a plumber to get it installed. You have options for one, two or three hole sinks. Water supply lines rely on the QuickConnect technology, so you do not need tightening.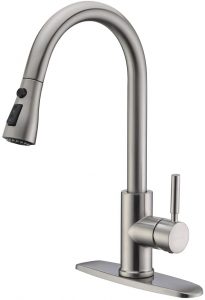 Check Direct From Supplier Price Now
USE COUPON CODE "KFJP5PKF" TO ENJOY 15% OFF and FREE SHIPPING!
WEWE is known for its sleek designs in kitchen faucets and this model makes no exception either. It looks smooth, modern and comes with a tulip design. The long reach kitchen faucet will make your kitchen fresh and simple.
Practicality is your primary concern and this faucet will not let you down. It has a three mode running setting – stream, spray and pause. The stream ensures an abundant water flow to fill up things, while the spray mode has a great pressure for cleaning. Wewe is also listed in our best kitchen faucet with highest flow rate.
One Handle
There is one handle to control everything – the temperature and water flow. The spout swivels to 360 degree, which is great if you have a double bowl sink or you have something large to clean. The sprayer head can be pulled down for more convenience.
You can purchase this faucet in a few different designs, depending on the style in your kitchen. The brushed nickel is the most popular option, but the matte black is just as interesting, especially if you have a minimalist kitchen based on black and white.
There is not too much to worry about when it comes to the installation. Some of the parts are pre-installed, so you will save lots of time. Other than that, you have an easy DIY installation – less than half an hour. There is no need to hire a plumber.
As for the maintenance, the finish is rust and corrosion resistant. It is quite good at taking water splashes and fingerprints because they are rarely visible. A simple cloth is more than enough to ensure it keeps well.
Check Direct From Supplier Price Now
USE COUPON CODE "KFJP5PKF" TO ENJOY 15% OFF and FREE SHIPPING!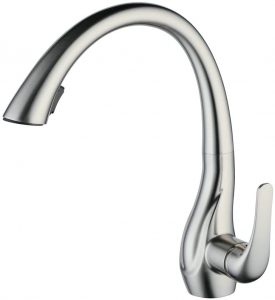 Featuring a sleek and simplistic design, this long spout reach kitchen faucet is actually a heavy duty model that will last for ages. It is made of brass and features a quality ceramic cartridge that will prevent leaks, as well as a water saving aerator.
Durability is not the only thing, as the design will impress you. The high arch goose neck is fancy looking and features a style that provides extra room for large cookware. You also have 360 degree swiveling if you want to take it out of the way.
Everything is adjustable through a single lever. You can control the water flow and temperature in one go – less parts altogether, less parts to break down. It is important to know that the whole unit can be purchased in different designs – nickel brushed or pure black.
Functionality is just as important. Beelee's long reach kitchen faucet has a dual function sprayer. You can have the aerated stream, which is great to fill up pots and bottles, but you can also switch to a powerful spray for some heavy duty cleaning.
Maintenance is a piece of cake. The sprayer nozzles are made of rubber. They are easy to clean and they do require a bit of cleaning, especially if you have hard water. Use your finger or perhaps a cloth to clear limescale.
Finally, installation should pose no problems. The unit is designed to match most sinks. Everything is included in the package, as well as the waterline hoses. It takes about half an hour to perform the installation yourself.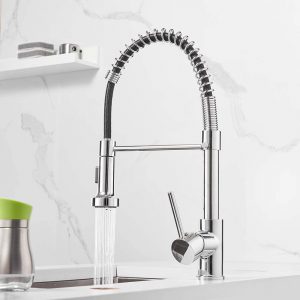 You can never go wrong with a commercial grade kitchen faucet optimized for residential uses. You know it will not let you down, but you also know you can count on great quality standards and an exquisite functionality.
The unit allows lots of room for large pieces of food and cookware, yet it has a compact design. It measures 16 inches in height, so it is a good idea if you have cabinets above the sink too – just measure the distance to make sure.
The sleek design will match any kitchen. While polished chrome is the most common finish, you can also get brushed nickel, black and gold, matte black or polished gold. Just choose whatever suits your kitchen décor.
The faucet is made of solid brass – a top option for durability. It has a ceramic disc cartridge, which ensures perfect sealing and no leaking whatsoever. Nothing was overlooked in the design of this unit, not even the superior aerator for longterm uses.
Sprayer Features
The sprayer features a double function. You can toggle between one and another without too much hassle. The aerated stream is splash free – no more splashes on your chest. The actual spray is quite intense and suitable for all kinds of rinsing procedures.
The head can be pulled down for more convenience – after all, you will need to move it around every now and then. Plus, you would rather move the lightweight head than a heavy turkey or a large piece of cookware that may scratch your sink.
Maintenance is fairly simple, as well as the installation. You do not have to hire a plumber – just do it yourself instead. You have everything you need in the package, including waterlines and a connector. The manual will give you all the instructions you need.
What To Look For In A Long Reach
Kitchen 
Faucet 
Getting a new long reach kitchen faucet depends on the plumbing system you have, but there are a few other considerations to think about too.
Installation
Make sure it can fit your plumbing system. No matter how functional or good looking it is, it becomes useless if you cannot install it. Kitchen faucets come with one to four holes. If it has four, the fourth one is for an accessory, such as a soap dispenser.
Waterlines
Look under the sink and make sure the waterlines match. Quality faucets these days tend to be standard, so they match either way. However, it is still worth double checking upfront.
Finish
The finish is about aesthetics and durability. You want a finish that looks good and compliments your kitchen, but you also want it to last for ages, rather than get messy within a few months.
Convenience
At this point, there are lots of aspects to think about. Would you like a pull down sprayer? It allows moving the head around large cookware and food, which is much easier than moving large and heavy things around. How about different water modes? A spray is great for rinsing, while a stream is good to fill things up.
Spout height and reach
According to Family Handyman, the size is not to be overlooked either. Make sure there is enough room above your sink. If you have hanging cabinets above it, there may not be enough room for a tall faucet. The reach is just as important. Do you have a double bowl sink? At this point, you want the faucet and the sprayer (if any) to reach both bowls with no issues whatsoever.
Handle
Are you alright with one handle? How about more handles? Generally speaking, the less moving parts you have, the more durable the faucet will be.
Value for money
Go for something that provides value for money. You can get a faucet for as little as your lunch, but chances are it will last you for a few months only. On the other hand, a reputable brand will be more expensive, but its faucets will last for years.
Frequently Asked Questions
There will obviously be a few questions marks in your attempt to find the best long spout reach kitchen faucet.
Are brass faucets durable?
Brass is one of the most common options in quality faucets because it is durable. Brass faucets are likely to last for years without showing any signs of wear and tear. In fact, some brass plumbing fixtures will last for decades.
How many holes does my sink have?
You can check the amount of holes your sink has by looking under it. You will see the holes much easier if you take the old faucet off before buying a new long spout reach kitchen faucet.
Do I need a plumber to install a new faucet?
No. Most people do it themselves – it is a common DIY operation. The first time is more difficult, but you should succeed with nothing but some basic tools.
Verdict
As a short final conclusion, deciding on a new faucet could be a bit tricky. You can go for the cheapest unit you can find in the nearest hardware store, but it will not last for too long. You can opt for a brand with a good reputation and you will get extra convenience and no worries for at least a few years.
Deciding to upgrade to a long reach kitchen faucet is definitely a plus. While initially used in commercial kitchens, long spout reach faucets have become the norm in lots of residential kitchens these days. They provide lots of extra conveniences, as well as room for larger items.
There are plenty of options out there and even more bells and whistles. Take your time and make this decision with your actual needs and practicality in mind, rather than the extras and nice features coming with each faucet.
Also, if you are looking for a faucet filter, be sure to check out our latest product!
Source:
https://www.familyhandyman.com/plumbing/tips-on-choosing-a-faucet