Kitchens are an essential part of making a living space feel like home. To increase the efficiency of a kitchen, a highly functional kitchen faucet with a high water flow rate is most convenient.
An efficient kitchen faucet saves time and water, whether it is for cooking or cleaning purposes, and adds personality to the kitchen aesthetics. For a serviceable kitchen that suits any kitchen aesthetic, the appliances should coordinate with the rest of the kitchen. Unfortunately, numerous choices make it tedious to select.
Problems can come from multiple directions and if your kitchen faucet used to have a high flow rate when you first got it, the problem might be internal. You might be able to fix it yourself or just get a plumber.
If you have always experienced a low flow rate the problem is the faucet. At this point, replacement becomes your only option. Fortunately, there are plenty of good options out there, but some of them can definitely stand out in the crowd. So, what kind of solutions do you have and what is the best kitchen faucet for your home?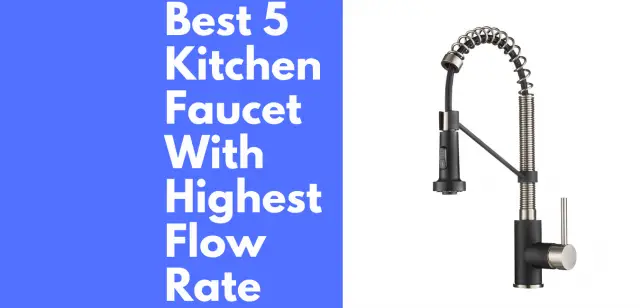 Read on to pick from some of the best kitchen faucets with high flow rates and functionality from the most trusted brands.
Comparison Table of Top 5 Kitchen Faucet with Highest Flow Rate
Our picks
These are some of the top-rated options on the market when looking for a high-flow kitchen faucet. Not only do they come from reputable brands or manufacturers, but they are also extremely well-rated all over the Internet. If they make thousands of homeowners happy, chances are they will have a positive impact on your experience too.
Available in a mix of matte black and stainless steel, this unit features an 18-inch height and can go under most cabinets. It comes with an arched spout and a full 180-degree rotation – ideal for both single and double sinks. The finish is not just about looks, but it can also resist
fingerprints or water spots.The high flow kitchen faucet has a more commercial profile. It looks fancy and elegant, but its performance and quality will make the differences. Made of brass, while the spout is based on stainless steel with impressive resistance to abrasion and corrosion.
The end of the spot is retractable – you have extra flexibility and versatility. The handle comes with a 90 degree forward rotation, so your new faucet can also get into tight places – assuming your space is limited.
 

Now, you are interested to know whether or not this is the kitchen faucet with highest flow rate. At 1.75GPM, it is one of the most efficient units on the market. The spout is just over six inches in height, while the spout reach goes up to almost nine inches.
In terms of maintenance, the unit can take stains like no other. You will most likely have to focus on the nozzles, as the actual faucet will not need too much work – stain and spot resistant. Just wipe away the possible mineral buildup
The installation is just as simple – if you have installed a faucet before, this will make a great DIY project. The faucet is installation ready. The package features all the things you need, including small hardware and water supply lines.
Aimadi has managed to design the kitchen faucet with the highest flow rate if you want flexibility, versatility, and great looks. The unit is made of solid brass, which will last for ages. It is also lead-free – no risks of poisoning.
One of the top features is the possibility to rotate the spout by 360 degrees. Basically, you can easily take it out of the way if you have something large to keep in the kitchen – such as a big turkey. It also makes a good addition to double sinks.
The faucet has a setting to alternate between two different spraying options.
The stream will be altered based on your personal needs. This is one of the aspects that change the game, as well as a feature that you normally find in commercial faucets.
 

Worried about the installation? You should be able to do it yourself. If you are not the DIY type, get a plumber. Anyway, the package comes with every piece of hardware you need. Besides, the faucet features a quick-connect design.
You only have one handle on the side. The design is clean and gives you some convenience if space is a major issue. Its location makes it suitable for tight kitchens. Other than that, it is worth noting the drip-free performance and water efficiency.
The end spray is removable. You can pull it out from the spout and spray around hardly accessible areas. Whether you have a turkey or a large pan in the sink, you can simply take the spray and rinse everywhere – just make sure to hold it as it gets back.
Forios has managed to create a high flow kitchen faucet that will get half the job done by itself. Basically, this unit comes with a motion sensor function. It is an infrared sensor that provides hands free operation – definitely the main feature.
The control box provides more options – you can opt for an automatic or a manual operation. You just have to turn the knob on and you can then control the faucet in two different ways – the classic way or the touchless way.
Just like you would expect from every high-quality faucet, the end is retractable. The sprayer can be pulled out, so you can clean hardly accessible areas and large items, such as turkeys or large cookware. It activates automatically when pulled out.
Now, if you are unhappy with the spraying mode, you have two different functions on it. Making the switch is very simple – you have a button on the side. Try both of them to make sure you know which one is more suitable.
 

Everything swivels. When you pull the sprayer out, the hose will obviously provide lots of flexibility. The spout can also swivel to 360 degrees.
You can take it out of the way or you can use it much easier if you have a double sink.
In terms of design and construction, the kitchen faucet with the highest flow rate from Forios is made of copper. It will last for ages and it does not even require too much maintenance. It can resist rust and features a brushed nickel finish.
WEWE does not fool around when it comes to quality faucets. Not only that, but this design is also beautiful and likely to become the focal point in your kitchen. It is simplistic, fresh, and sleek – it can also match both classic and contemporary designs.
The outlet features three different spray modes. First, you got the stream. Then, you can spray, but you also have a pause mode. Use the stream to fill something up, the spray to rinse cookware and food, and the pause to avoid splashing.
The installation is relatively easy. Many parts are preinstalled. You can get a plumber, but a little attention to small details will get you done within half an hour. This high-flow kitchen faucet makes an excellent DIY project.
Although it does look a little sophisticated at first, it is not. After all, you only have one handle. You can set both the water temperature and the water flow from the same handle. It allows a great degree of flexibility too.
The handle is conveniently located on the faucet – on the spout actually. It may not make the difference if you have a large kitchen and plenty of space. But if space is an issue for you, you will love the compact design.
 

Finally, the spout can swivel to 360 degree – great for double sinks or when you deal with large items. The sprayer head can retract and goes back by itself when done – just make sure you hold it. As for the maintenance, the unit is rust and corrosion resistant.
Kohler's kitchen faucet with the highest flow rate is a pull-down unit, meaning you can control the aerator with only one hand. The retractable unit allows reaching hardly accessible areas, especially when it comes to the large kitchen sink.
The spray head features three functions – boost, sweep spray and stream. The boost rate is what makes this unit a high-flow kitchen faucet – up to 30% more flow. However, the classic stream is just as impressive.
The sweep spray function is ideal when it comes to a large turkey, a big piece of cookware or perhaps cleaning the sink. There are a few angled nozzles that let the water go in multiple directions – even easier if you move the head.
The installation is fairly simple – most of the parts are preinstalled. Supply lines are flexible and can match most systems. You can get a single or three-hole installation, depending on the system you already have.
 

There is nothing to worry about when you take the spray head out. It features the DockNetic technology, which means it has a magnetic docking system. It will fit right into place – just make sure you hold it as it retracts.
Other than that, there is nothing to worry about in terms of durability. You have ceramic disc valves that will last forever and a premium finish that can withstand corrosion and rust. It is worth mentioning that the hose measures 60 inches when fully extended.
BUYING GUIDE
When it comes to buying the right kitchen faucet for your home, it is essential to remember that looks aren't everything. There are features and information you need to consider before picking the best kitchen faucet with the highest flow rate. Dependability, convenience, practicality, maintenance, durability are some of the things you need to consider besides the style and design of a kitchen faucet.
To guide you through the numerous options among the high flowing kitchen faucet in the market, here are some crucial considerations to observe:
Types of Kitchen Faucets
There are three types of kitchen faucets
One –handle Kitchen Faucet
These are mostly used and are contemporary-looking in design. They dispense hot and cold water with one hand, leaving the other hand free to clean and hold other things.
They are convenient and mostly recommended because you can easily adjust water temperatures, and it also means one less handle to clean!
Two-handle Faucets
These faucets give a symmetrical appearance and antique look. Two separate valves connect to the same base unit to dispense hot and cold water, and you need to adjust both the valves separately.
Widespread faucet
Much like the two handle faucet but the base connects to separate valves on both sides of the spout. To know which kitchen faucet best suits your kitchen sink, make sure you choose one with the right number of the faucet handle.
Kitchen Faucet Features to Look For
Types Of Kitchen Faucet Finishes
Spout height and reach
If the spout is too low, you will have trouble fitting in big pots and pitchers in the sink. Consider the types of utensils you frequently use to pick the right spout height before purchasing a kitchen faucet.
 

Also, examine how far the spout can reach when pulled down or away to make the best of cleaning and reaching difficult spots in and around the sink.
Choose a finish that matches the other hardware and cabinets around the room. Whether the majority of the other appliances around the faucet are chrome, matte, satin, or bronze finish, matching them improves the overall view of the whole setting.
Chrome is most durable and easy to maintain, whereas nickel or others labeled as "brushed," "stained," or "stainless steel" tends to leave fingerprints, stains, and smudges.
Spray Head
Choose one with a pull-down sprayer as they are less likely to dribble or leak water for a mess-free sink. Conventional sprayers are hard to manipulate and leaves water droplets around. Also, check if it supports extra features like a pause button, boost flow, or sweep current to make controlling and cleaning easier.
The number of holes in the sink or countertop
Consider the hole on the countertop or kitchen sink to dispense hot or cold water and under the spout. If your kitchen has one hole and the faucet comes with a 3-hole installation, it will leave an empty hole. You can use an extra hole to keep a soap dispenser, but some counters do not allow that feature, and it can be problematic.
Water Flow rate
This is a vital feature to check before you settle on any kitchen faucet.
The recommended water flow rate is below 2.5GPM, and the best flow rate is usually around 1.8 to 2.0 GPM.
You should also ensure that the water flow rate from the supply source is compatible with your faucet flow rate for optimum usage.
Frequently asked questions
How is the water flow rate calculated?
The water flow rate is given in gallons per minute – GPM. The measurement tells you how many gallons of water can go through the faucet within a minute. The higher the value is, the more powerful the water flow becomes.
How can I clean the faucet nozzle?
The easiest way to clean a faucet nozzle is by soaking it in a 50/50 vinegar and water solution. Dip the tip of the faucet in a plastic bag filled with the solution and leave it for an hour to remove residues and dirt in the nozzle.
Which finish is most durable?
Brushed nickel is considered the most durable for kitchen faucet finishing. Although Chrome finish is mostly available, even oil-rubbed bronze faucets are highly sustainable.
What is a faucet escutcheon?
They are decorative plates that cover extra holes in the sink. They are optional, so if you are not sure about the number of holes on your kitchen sink counter, you can choose one with an escutcheon attached
Which parts are most susceptible to damage?
Faucet Cartridge: It regulates water flow and temperature.
Faucet aerators: they are a vital part of the tip of the nozzle that controls water flow. The faucet and spray connect to the aerator. It prevents water splashing, shapes the water stream, and silences the flow.
Both are easily replaceable if damaged or broken.
What is a good flow rate for a kitchen faucet?
It depends on more factors, such as the water supply in your area. In some areas, the average flow is set at 1.5GPM. In other areas, the average flow might be as high as 2.2GPM. Many new kitchen faucets come with an aerator, which goes on the nozzle and allows a bit of customization.
How can I check the water flow rate for my kitchen faucet?
Get a container of a gallon or more gallons. Turn the water on and time how long you need to fill it up. You can use the stopwatch on your phone. If the container has a gallon, there is not too much math to do.
It only takes half a minute to fill it up and you have a 2GPM water flow rate. In the event, if the container is larger, divide the time according to the size. For example, if it took two minutes to fill up a five-gallon container, your water flow rate is 2.5GPM.
What must-have features do I need in a kitchen faucet with the highest flow rate?
Apart from good flow, you also require a few extras. Make sure the unit is durable and made of quality materials. You also need a retractable sprayer, as there will be large items that require washing – turkeys or perhaps large cookware. More spraying modes will also help.
Can I install a faucet by myself?
More and more DIY enthusiasts install faucets by themselves. The operation is straightforward. Once you do it once, you will face no issues later on. Many modern faucets come with preinstalled parts, so the operation is even easier now. Plus, they have manuals of instructions with detailed information. You only need a few tools.
What is maximum flow rate for kitchen faucets?
From many points of view, kitchen faucets are restricted in terms of water flow rate. The maximum rate for the USA is 2.2 gallons per minute at 60 pounds per square inch. Different states and countries come with different rules regarding the water flow through.
Georgia is restricted to two gallons per minute at the same pressure. California had a similar restriction, but it was reduced to 1.8 gallons per minute in 2015. As for the minimum rate, there are no rules or restrictions. Top manufacturers bring in at least 1.5 gallons per minute, but you can find less than that too.
Should I get a faucet with one or more handles?
These days, modern and fancy faucets come with one handle only. It is space-efficient and less problematic. Moreover, these faucets look more simplistic – a common trend in kitchen fashion.
Conclusion
So, what is the best kitchen faucet with the highest flow rate out there? Any of the above-mentioned products will most likely make a difference in your kitchen. If you count the customer ratings, WEWE Single Handle High Arc Kitchen Faucet is your top choice – also a cheaper alternative to other units. If you count brand reputation, Kohler will not let you down and boosts exquisite customer service. Go into small details and analyze each product individually before deciding what can match your personal needs.
Also, if you are looking for a faucet filter, be sure to check out our latest product!