While not always true, you probably know that kitchen faucet made in the USA come with extra peace of mind. You know the local standards are extremely high in terms of quality, so you can count on a durable piece with great versatility.
At the same time, most warranties cover manufacturing defects. You do not feel like sending a broken faucet overseas and wait for a few months to get a replacement. Instead, when everything is local, the whole process is smoother and more straightforward.
Now, which is the best?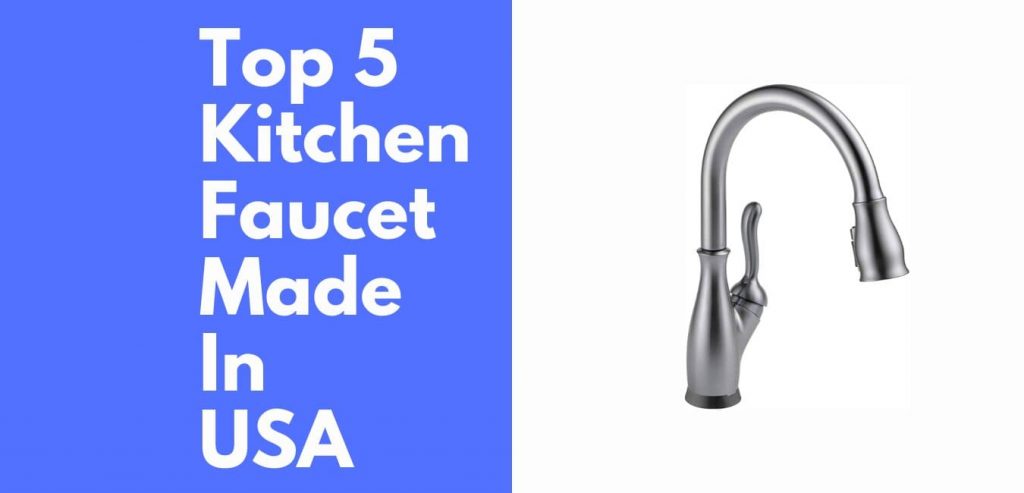 Comparison Table of Kitchen Faucet Made in USA
| | | | | | |
| --- | --- | --- | --- | --- | --- |
| | Best Option | Cost Effective | Very Efficient | Most Versatile | Customer's Favourite |
| Product | Moen 5923 | Kohler K-R562-SD-VS Malleco | Moen 7594ESRS | Delta Faucet Leland | Kohler K-10430-CP Forte |
| Highlights | It comes with a versatile design and a super tall neck spout for clearance. | Features one handle for full customization and multiple types of handles. | Comes with two sensors for touch less operation and a full package. | Can be turned on or off with a single tap and lasts more than other units in this range. | Has a metallic construction and a high temperature limit. |
Top 5 Kitchen Faucets Made in USA
Here are some of the top-rated kitchen faucets on the market. They are made locally and have made hundreds or even thousands of customers happy, hence their impressive ratings.

Moen's 5923 model could be the best kitchen faucet made in the USA if you are after reliability and simplicity. It is versatile and has a mirror appearance, so it works with both modern and traditional kitchens.
The hose provides four times more reach than other units in this segment while retracting is easy and straightforward. The spray mode is extremely powerful – up to 50% more powerful than most alternatives. As for the installation, it makes a good DIY project. It is based on Duralock quick connect feature for simplicity.
The tall neck spout measures 22.5 inches in height. It comes in a few different finishes, with chrome being the most popular one. You can also opt for stainless steel, black stainless steel, and matte black. Furthermore, it is worth noting that Moen has confidence in its product and most of them come with a limited lifetime warranty.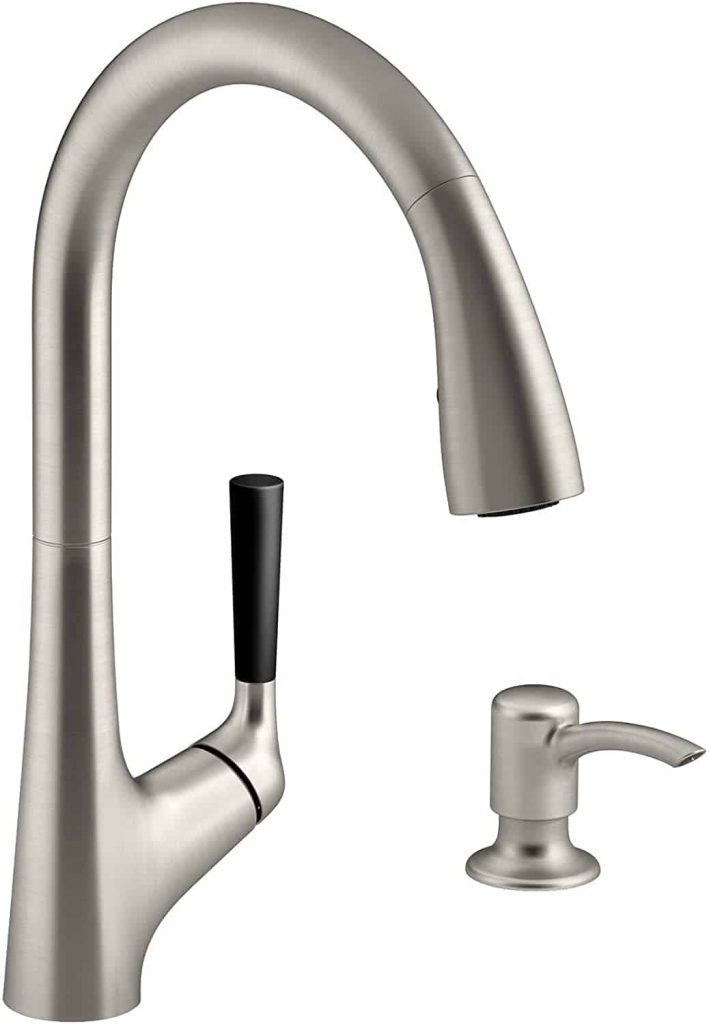 Kohler has always been a front runner in terms of kitchen faucets and this model can easily outweigh the competition. The faucet is designed with simplicity in mind – there is a single lever handle only. You can use it to turn the water on and off, but also to adjust the temperature without too much hassle.
The package gives you a bit of variety in terms of design and comfort – good for backups as well. You basically get three different silicone handles. They are all interchangeable – taupe, black, and white. The installation is fairly easy, so you will not need a plumber. Also, Kohler has brought in the ProMotion technology for this faucet, meaning the nylon hose and ball joint and super easy and comfy to use.
The high arch goose neck spout offers 360-degree rotation and lots of clearance for large items or pots. The faucet comes with a few different modes – switching involves touching. You can switch between steam and spray using touch control technology.
Finally, you can also expect a limited lifetime warranty from Kohler.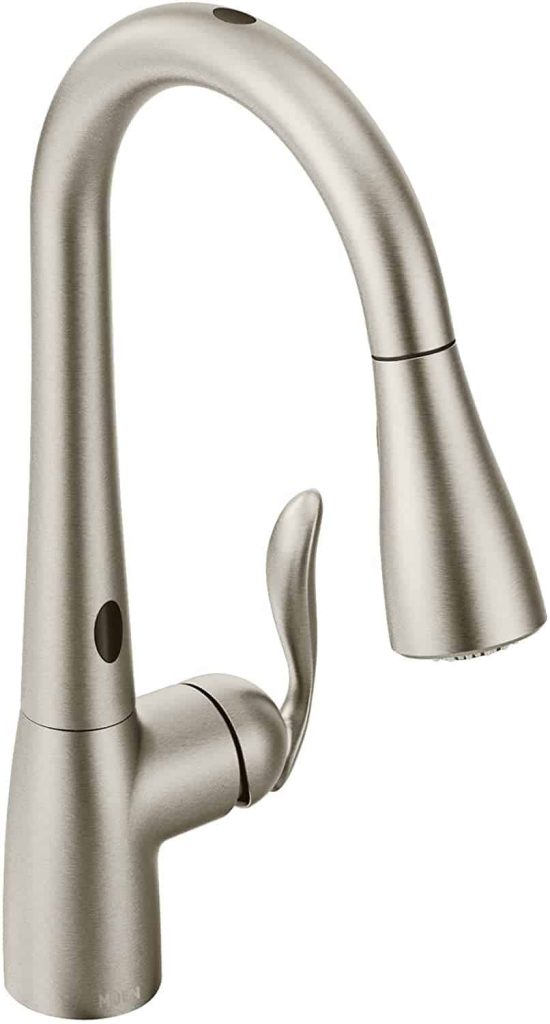 The 7594ESRS model from Moen is the best kitchen faucet made in the USA if you are after fewer spots and stains. The finish is based on nickel and can resist stains and fingerprints like no other alternative. It features a flexible design and can be installed through one or three holes. The escutcheon is included in the package, which also comes with a limited lifetime warranty.
The faucet features the MotionSense technology, which brings in two sensors and delivers hands-free versatility. A basic hand movement is more than enough to start the water flow – excellent if your hands are dirty or oily and you do not feel like soiling the handle.
Moreover, the Power Clean technology targets the spray mode and allows 50% more power than in other units. Other than that, you have the so-called Reflex system that ensures a simplistic movement and secure docking for the head.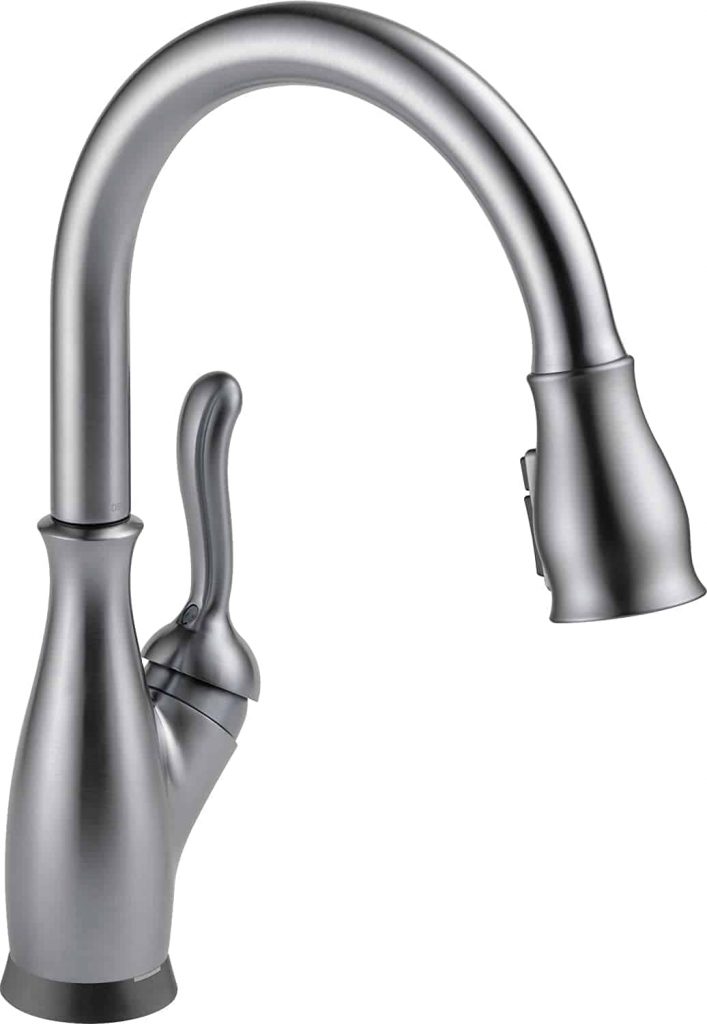 Featuring a limited five-year warranty and coming in four different finishes, this is yet another great kitchen faucet made in the USA by the highest quality standards. It comes with a single lever handle that will control everything – the flow and the temperature.
Whether your hands are messy or oily, you can simply tap the spout with your forearm or wrist to turn the water on or off. You can see the water temperature by looking at the TempSense LED indicator light, whose color will give you a clue about the temperature.
Docking is magnetic and powerful, while the spray itself will target stubborn dirt and stains with no issues at all. Delta Faucet has also brought in a proprietary diamond seal technology that boosts the durability of this unit and reduces the possibility of leaks.
As for the installation, you can opt for a single hole or a three-hole operation. Everything you need is included in the package, including the decorative deck plate.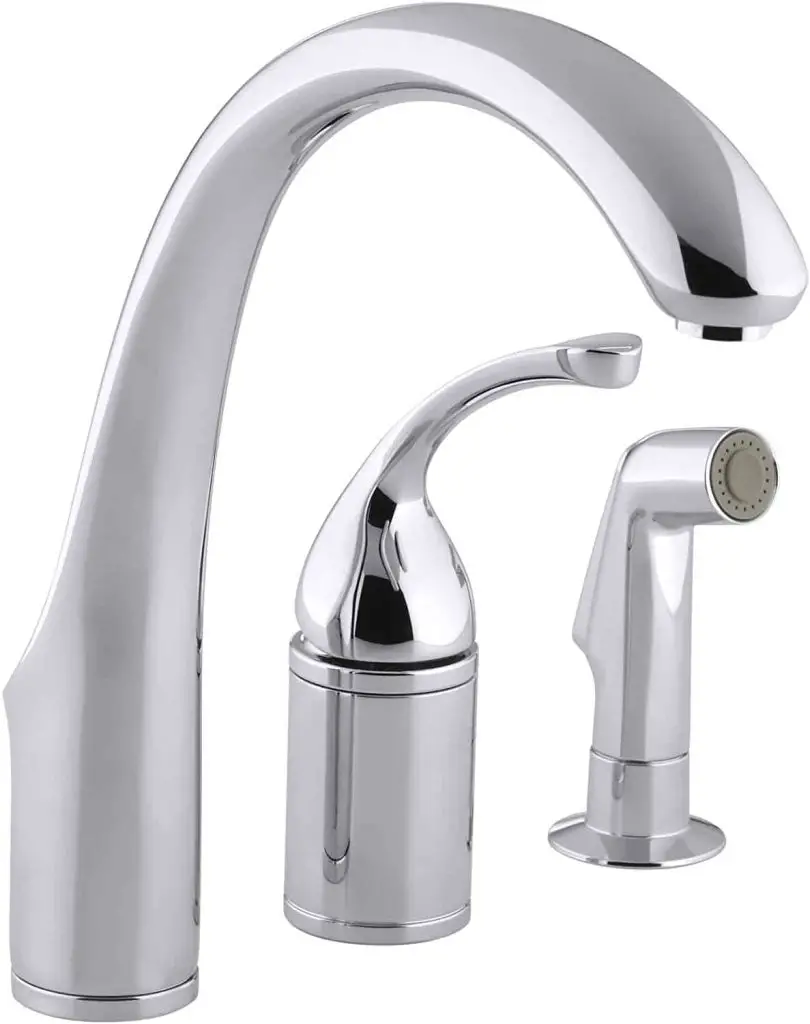 Bringing in a fully metallic construction for a long lifespan, five different finishes to match any type of décor and a limited lifetime warranty, Kohler's kitchen faucet made in the USA is less likely to disappoint you.
It comes with extremely precise water control, so finding the perfect pressure or temperature will never be a problem again. You can also preset the maximum temperature to make sure you will never get burnt again – just set it to a comfortable range.
The high spout allows lots of clearance for large pots or food – such as a turkey. Plus, the matching side spray is great for convenience and flexibility. In terms of durability, you can count on solid ceramic disc valves.
What To Look For When Buying A Kitchen Faucet Made In USA
Consider the faucet holes
There are all kinds of designs out there, but not all of them might be compatible with your sink. Look at the sink to figure out how many mounting holes you have first. If you have a mounting plate, look under it.
Some kitchen faucets may come with one mounting hole, while others come with four. Most commonly, you will find one and three-hole installations. The fourth hole is not that common unless you have a fancy faucet with a soap dispenser or a side spray.
Once you know what your sink has, check the specs to ensure your new faucet can match. You can install one-hole faucets into the sinks with three holes, yet you will need a deck plate to cover the other openings.
Think about the mount
Top mount faucets can be installed from underneath, while bottom mount faucets attach from the top – the screws obviously go from the top. This is one of the most overlooked aspects and it can make a difference.
Look at the water lines
Make sure your new faucet works with the water supply lines. You can find them under the sink. If you are not sure about the size, simply get a measuring tape. The size is often marked on the valve. It might be a good idea to replace the shutoff valves too when you get a new faucet.
Decide on the spout
If the installation holes on the sink are close to one side, make sure the spout is long and can tackle the other side of the sink too. The situation is more obvious when it comes to double sinks. At this point, you need a long spout and perhaps a pull-down spray nozzle too.
How about the finish?
There are lots of finishes out there and most people consider the design based on the décor they already have. However, the finish should also be easy to maintain. If you can opt for a model that prevents stains, spots, and fingerprints.
Materials and extras
Never overlook the materials a faucet is made of. The more durable they are, the better. Practically, you should look for metallic components, rather than plastic.
In terms of extras, you want a longer warranty and a bunch of bells and whistles – such as touch-less operation or temperature settings.
What Kitchen Faucets Are Made In USA
After our thorough research, we found quite a number of kitchen faucets made in the USA and surprisingly most of the brands are known to be the best kitchen faucet in the market. So here is a list of it
Kohler
Delta
Moen
WaterStone
FAQs
How can I remove Calcium deposits from my faucet?
Warm water and a soft cloth will normally do the trick. If you overlook the problem for too long, you might need a 50/50 mix of water and white vinegar.
Avoid using chemicals and cleaners if they are not recommended by the manufacturer, as you risk voiding the warranty. We also wrote an article on how to remove calcium deposits from faucet. Please have a read.
Can I buy a non spray kitchen faucet and convert it to a sprayer?
While it looks like a cheap solution to get a spray faucet, this idea does not really work. Kitchen faucets with sprays and hoses feature specific valve bodies. Nonsprayer models come with different valve bodies, so such a conversion would not be possible.
How many holes does my sink need to install a faucet?
It depends on both the faucet and the sink. You will find faucets with all kinds of mounting adaptations. For example, a single-handle faucet can be installed through one, two, three, and four-hole sinks.
Two-handle faucets are more suitable for three and four-hole applications. If you have no idea how many holes you have because your current faucet covers them, simply look under the sink.
Conclusion
As a short final conclusion, deciding on a kitchen faucet made in the USA is not that difficult once you know what to look for. Make sure you are familiar with your current system and get a product that provides versatility and convenience.
The good news is you do have a few good options. The above-mentioned products are extremely well rated and work wonders for thousands of customers all across the world. However, what works for some people will not work for everyone else, so you cannot just choose blindly – take your time and research your options.
Source:
https://www.familyhandyman.com/plumbing/tips-on-choosing-a-faucet/
https://www.houzz.com/magazine/how-to-pick-a-new-kitchen-faucet-stsetivw-vs~22540748
https://www.thebewitchinkitchen.com/choosing-a-kitchen-faucet/​