InSinkErator Evolution Supreme SS is currently one of the top-rated garbage disposals on the market. Designed to bring value for money, you are likely to find a few bells and whistles to impress, as well as an affordable price tag.
Whether it comes to its power, grinding capabilities, or durability, this garbage disposal will make the difference in your kitchen.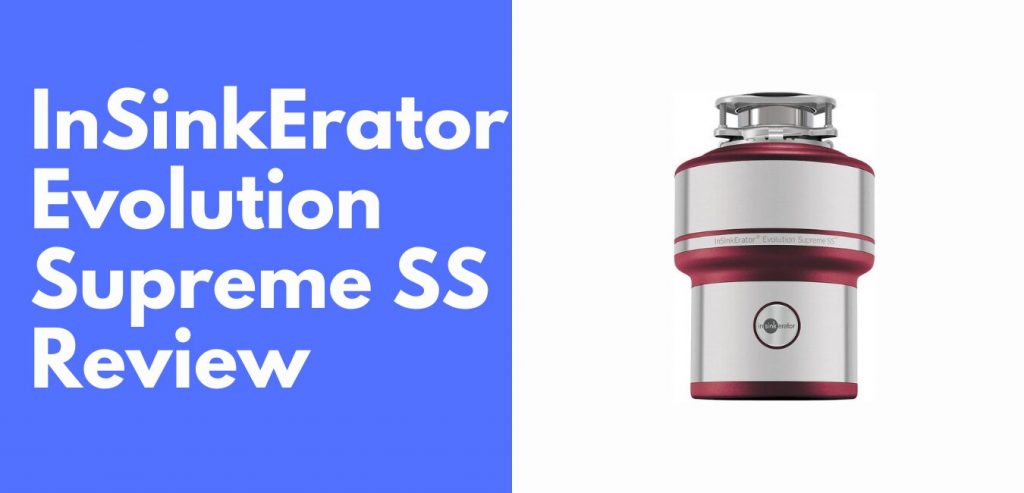 Here are its main features at a quick glance:
InSinkErator Evolution Supreme SS Review in 2020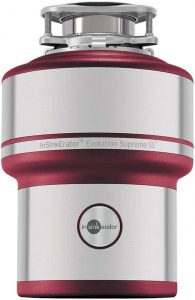 Features
1HP DuraDrive motor​​​​
MultiGrind technology with three phases
SoundSeal technology
40-ounce grinding chamber
Quick Lock sink mounting mechanism
Antimicrobial Quiet Collar sink baffle
Continuous feed operation
Now, What You Need To Know In Terms Of Functionality and Operation?

Durability
InSinkErator Evolution Supreme SS is rich in stainless steel. Many of its parts are based on this durable and lightweight material. Not only that, but it can also resist corrosion and rust in the long run. Some of the main parts made of stainless steel include the grinding chamber, the ring, and the undercutter.
As you research the market for the best garbage disposal, you will be surprised to find out that while many units incorporate stainless steel components, most of them will barely have a couple of small parts. This one makes the difference.
The average lifespan of a fully stainless steel garbage disposal is anywhere around 12 years. Take good care of it and chances are it will last much longer. It also features a 10-year warranty, meaning an expert will come to your home to fix it if something goes wrong within that time frame.
Performance
Good durability is nothing without performance. You need the unit to get your food ground in no time. This is what InSinkErator Evolution Supreme SS has been created for. It is one of the most powerful units in its segment with a DuraDrive motor and 1HP of power. You can get rid of most types of foods, including small chicken bones.
The powerful motor is not everything – the MultiGrind technology is just as attractive. It features three different stages, so the final result is extremely fine – no clogs and no issues with your drains.
The Auto Reverse technology is just as important – another proprietary feature from InSinkErator. If there is a jam, the unit will go backwards to remove it.
The best part is that most of these technologies cannot be found in other garbage disposals – or at least in other brands' products, since they are designed by InSinkErator.
Noise level
Noisy garbage disposal could be annoying, indeed. Generally speaking, more power will bring in more noise. Not this time. InSinkErator Evolution Supreme SS has brought in a few technologies that target every aspect of its operation.
The SoundSeal technology is responsible for the noise. Practically, it brings in lots of insulation around the grinding chamber and the motor. Mountings are also designed to prevent vibration, which is one of the main noise amplifiers.
Generally speaking, this garbage disposal is at least 50% quieter than other units in the 1HP motor range – much quieter than less powerful alternatives too. We have also review the 5 best quietest garbage disposals, do check it out.
Installation
The installation makes a good DIY project – a three-bolt assembly. You also have a Quick-Lock setup, which means you just fit the disposal in, then twist. The package is complete and features all the connections you require – including a standard dishwasher one.
Given its size – compact and only 13 inches in height, it can also go under the sink, even if your space is limited. The installation is even easier if you already have an InSinkErator garbage disposal that only needs replacement. Besides, the manual of instructions is well detailed.
Troubleshooting
InSinkErator Evolution Supreme SS is a premium garbage disposal, so you are less likely to experience any problems. Taking advantage of the long warranty is the way to go, especially as the company will send an engineer to your home to work on the problem.
There are, however, a few issues you can sort out yourself. You have a reset button and a hex hole. If you overload the unit and it no longer works, simply reset if – the button is on the bottom side.
Although it has its own anti-jam technology, you can also use a hex wrench and through the hole at the bottom. You can then rotate the thing manually to clear any clogs. These are the main problems you might encounter, but common sense will keep them away from you.
Verdict
Bottom line, InSinkErator Evolution Supreme SS is the ideal option if you want performance and durability.
It is a premium garbage disposal with superior technologies and a price that turns it into a great deal. Of course, what works for some people will not work for everyone else, so you need to analyze your needs first.​