Building the perfect kitchen is a matter of attention and style, while small details are responsible for the magic. From this point of view, the faucet could easily become the focal part of the area because it speaks to your personal preferences and style.
Whether you need to refresh your kitchen or you rebuild it from scratch, going through a Delta shield spray review or two will point the right direction.
Delta faucets are among the most reputable options on the market. Founded in 1954, the company has focused on quality and tried to find a solution to the common necessity to replace a faucet after a year or two. Its faucets dominate the industry these days and they are known for their great looks and exceptional quality standards.
Now, what is the best Delta shield spray faucet and why?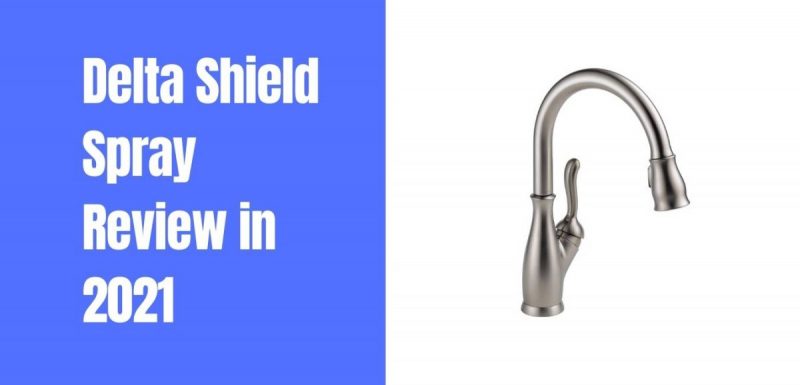 Comparison Table
Our Picks – Top 5 Delta Shield Spray Reviews In 2021
Here are the best-rated Delta shield spray faucets on the market based on customers' ratings and reviews.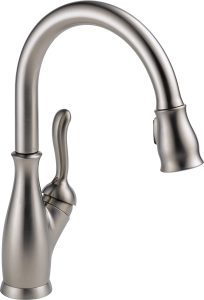 Featuring chrome, matte, or bronze styles, this faucet has a vintage appearance and a proprietary diamond seal technology, which ensures it will never leak – the primary cause of replacing faucets. It has touch-clean spray holes for easy maintenance, as well as a spot shield finish against fingerprints and spots. The coating covers a solid brass construction.
The installation is fairly simple. You can fit it over one or three holes. All the parts are included in the package, as well as a deck plate. Supply lines are integrated too, so there is no need to purchase anything else separately. The installation is straightforward and can be done as a rewarding DIY project – rather than call a professional.
There is a single handle for everything – pressure and temperature. You also have a powerful spray based on the shield spray technology – no more splatter. Furthermore, the sprayer will dock into place with a powerful magnet, so it is less likely to droop after too many uses. The spout is fairly tall and measures 7.5 inches in height.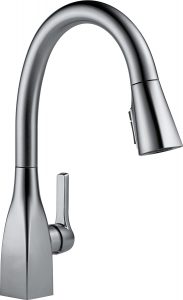 Delta's Mateo collection is similar to Leland in looks and appearance, but there are a few details that make this Delta shield spray kitchen faucet stand out. The long neck could be the only part that brings back a vintage appearance. Everything else – from binding elements to actual lines – is modern and contemporary.
It fits single or three-hole installations – everything is included in the package, but you may want to consider purchasing a deck plate if you need it. This part is not included, meaning you need to do your homework – something that must fit and look the same. Other than that, the faucet is available in a few different finishes to complement any kitchen.
When it comes to innovative technologies, Delta is known for its sealing technology that prevents leaks – one of the main issues in faucets. The sprayer is quite powerful, but the splatter is dramatically reduced. You can fit it back in with a simple touch – magnetic docking. There is a toggle on the back of it. Even if you put it back, it will stay in the same mode once you use it again.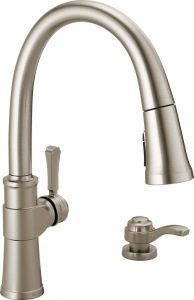 It is almost impossible to find a negative Delta shield spray review when considering the Spargo collection. Whether you are after black stainless, chrome or bronze, you got any of these options in a single-handed faucet with good clearance and a contemporary appearance. Based on zinc, it is likely to face the test of time.
Featuring Delta's famous diamond seal technology, the faucet is guaranteed to never leak throughout the first 500,000 cycles – imagine using it 20 times a day. It will last for about 70 years. No matter what type of finish you choose, you will notice that water spots and fingerprints are less likely to stick on the surface of the faucet.
The sprayer has a high pressure without splattering around. It docks to the faucet with a powerful magnet and it has a button on the back to turn on or off. Installing the faucet should take you less than half an hour. You have everything you need in the package, including a deck plate and even a soap dispenser. It fits single, two, three or four hole designs.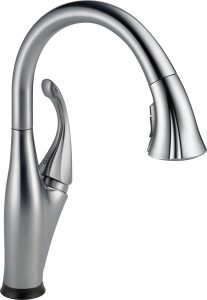 Every Delta shield spray review for the Addison collection will mention the design. While it has a classic appearance for Delta's faucets, it has rounder lines and a more sophisticated appearance. It works well in both traditional and modern kitchens and will easily become the focal point. Other than that, the design is traditional – a single handle and a long spout.
Just like other faucets from Delta, you have more finishings or coatings to choose from – bronze, dark, shiny, chrome, matte, and so on. The faucet is based on brass, which adds to its exquisite durability. Plus, the diamond seal technology prevents leaks for more than 500,000 cycles – meaning your faucet may last for a lifetime.
It fits single and three-hole configurations, but the deck plate is not included. Apart from the single handle, you can also just touch the spout to turn the water on or off. A LED indicator within the sprayer will indicate the temperature. The sprayer is great – little to no splatter, even at high pressure. It sticks with magnetic docking.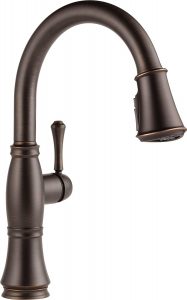 The Cassidy faucet from Delta brings in a vintage appearance – suitable for rough style kitchens, old-fashioned designs, and even contemporary kitchens, with a bit of work. The best news is it comes with multiple options for the coating – gold, silver, black, and so on. The color will not affect the actual design or build though.
With a total spout height of over 15 inches, you have good clearance and almost no splatter due to the shield spray technology – every Delta shied spray review out there will mention it. The sprayer features magnetic docking, so it will go right back with no issues at all. It also has a switch at the back to toggle the spray mode on or off.
The sealing technology in this faucet prevents leaks for over 500,000 uses, while the installation is super easy for single and three-hole configurations. If you have a three-hole design, you will need to purchase the deck plate separately. Everything else is included in the package. It is also worth mentioning that the faucet features a single handle for everything.
Buying Guide For Choosing The Best Delta Shield Sprays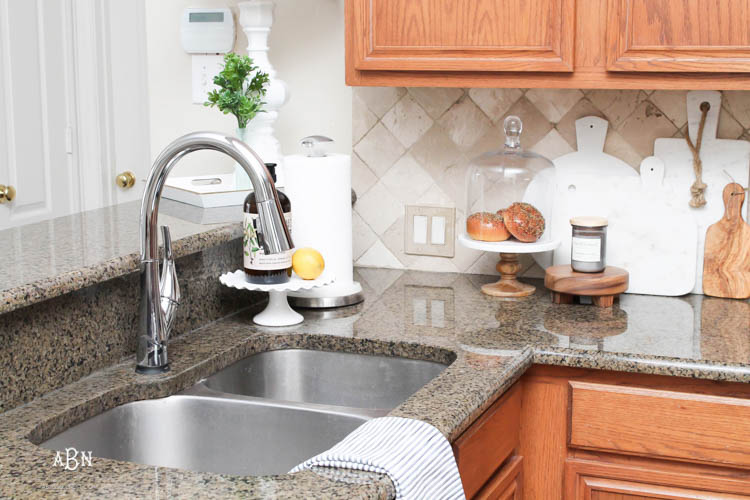 At a first glance, almost every Delta shield spray review will bring in similar advantages and features. So, what do you need to look for when purchasing a faucet? What kind of details is more important?
Looks
The overall design is important, but you have to look beyond that. Lots of people choose faucets based on their appearance only, without actually considering other features. Delta features more types of coating and finishing for its faucets, while the single handle options can be modern or vintage.
Spout
Double-check the spout reach and height, as they vary widely from one unit to another. Most of the time, you will choose the lock without realizing that the faucet may not fit under a top cabinet. A shelf above the sink is just as problematic. Plus, if you have a three bowl sink, a spout with a relatively short reach might become frustrating.
Ceramic valves
Generally, ceramic valves will prevent dripping and leaks. Other types of valves can work wonders in the long run, but they will not be able to match the quality standards of ceramic. The good news is many Delta faucets feature a proprietary technology to prevent leaks for more than 500,000 cycles.
Finishing
ou need to ensure the finishing matches the hardware in the cabinets around, as well as other metallic fixtures. A mismatch will not look too good. Some finishings are more durable than others though.
Chrome is one of the leading options. Nickel is durable too, but it will get fingerprints and water spots. Bronze looks great, but it can chip much faster than metal.
Hole configuration
Finally, check the actual hole configuration in your sink before even going through a Delta shield spray review. Switching from two handles to one?
Make sure you get a plate too – it should be included in the package. If it is not, you can buy one separately, but make sure it matches. On another hand, if your kitchen has a widespread design, you may not be able to go for a single handle unit.
Frequently Asked Questions
Still not sure about the best faucet for your kitchen?
Do I need a plumber to install a new faucet?
It depends. Some people install faucets themselves. The first one is always the most difficult one. Things get much smoother and easier later on, as you gain some experience. It makes a good DIY project, but you can also hire a plumber if you do not want to take any risks. Plumbers will most likely add a big chunk to the overall price of your faucet.
How does Delta's shield spray technology work?
Delta's unique shield spray technology is relatively simple to understand. Practically, the unit brings in a concentrated jet of water going through the middle of the stream. Then, there is a second jet of water that works as a shield. It goes around the initial jet and prevents it from splattering around and turning your kitchen into a mess.
Conclusion
As a short final conclusion, it is quite difficult to find a negative Delta shield spray review out there. The brand has opened the door to multiple technologies throughout its history.
These days, it brings in a few innovations that other brands simply cannot implement. The shield spray technology is one of the most impressive ones, clearing the splatter by up to 90%.
Choosing the right faucet is not just a matter of personal preferences and style, but also an aspect that involves more education regarding your actual needs and the capabilities of such an advanced unit. We also did a comparison of Delta and Moen Kitchen Faucet, do check them out.