The need of having a waste disposal unit in place cannot be overemphasized. Garbage disposal units address the need for convenience and conservation at the same time.
Food waste dumped into garbage disposal units reroutes and turns into renewable energy or fertilizer instead of ending up in the landfill and harming the environment. There isn't a dearth of garbage disposal units in the market – some can grind chicken bones in a snap while for some others even eggshells are out of the question.
In the midst of this overload, we are giving an unbiased and honest overview of the effectiveness, performance, and quality. I hope you will enjoy reading our Criterion Garbage Disposal reviews.
Criterion Food Waste Disposal System – Honest Review
It features a continuous feed type, a sturdy grinding chamber, and complete noise insulation. Innovative water sealing splash guard minimizes water splash-back and grinding sounds.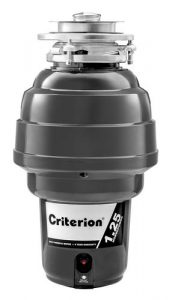 Powered by a 1.25 HP high-speed motor, the Criterion garbage disposal runs at a speed of 2700 revolutions per minute (RPM). Interestingly, this is the highest power that household disposal can have. Its ultra-power motor makes the unit strong enough to grind up to 98 to 99% of all food wastes, from soft fruits to tough beef bones.
Apart from the fact that it has a colossal horsepower, this garbage disposal uses a pattern of continuous feed type disposal which means you can keep adding food waste into it while it is still running. It also has a massive chamber capacity of 38oz which can take the load of 38oz worth of food waste.
Superior Build Quality
The hardened stainless steel material is also capable of cutting through the toughest waste and reducing jamming.
Sound Insulation
The insulated housing chambers on this one greatly reduce noise and vibration while grinding up food waste. So instead of hearing loud, gurgling sounds, you will hear subdued humming. If noise is a concern to you, do check out our best 5 quietest garbage disposal listings. click here.
Criterion Garbage Disposal Installation
Beginners may need to opt for additional help. It comes with a pre-wired 3-foot long cord so you don't have to fiddle with complex electric connections. In addition, the 3-bolt steel mounting flange is compatible with most other 3-bolt flanges so you can have easy and fast replacements.
Price & Warranty
This waste disposal system costs you less than 100 bucks and it gives you more power for your money.
The product is covered under a 5 year long warranty period which is the maximum for any disposal unit at this price point.
Conclusion of the Criterion Garbage Disposal Reviews
The Criterion Garbage disposal is best suited for a small apartment with 1 to 3 people. It's got a super high-powered motor that works efficiently well for your everyday food wastage.
However, the sound insulation may not be on par with other higher-end waste disposals.