There is hidden filtered pitchers that can provide water as clean as these popular models. One such filtered pitcher is the Clearly Filtered water pitcher.
It took some time but we found a pitcher that was not from Brita nor Pur. So, is it the best option for you? Should you consider it for your home? Find answers to these questions through this post sharing an honest Clearly Filtered review.
The biggest advantage of using filtered water is definitely its delicious taste due to which even your meals and beverages will taste better. Even the most non-toxic particles in tap water can contribute to unwanted or objectionable flavors.
Thus, whether you want such water for brewing coffee, drinking, or making soup, a filter pitcher is what you need. This is true even if you are using water from the nearby well. When it comes to buying the best water filter pitcher, most people will look for filters from popular brands such as Brita and Pur.
However, they are not the only reliable brands or products.

Clearly Filtered Review in 2021

Convincing Factors as to Why You Should Consider The Clearly Filtered Pitcher
A product sets itself apart from its competitive products through its salient features. Thus, let's explore its features to know how suitable the Clearly Filtered water filter can be for you.
Slim, Sleek, and Simple Design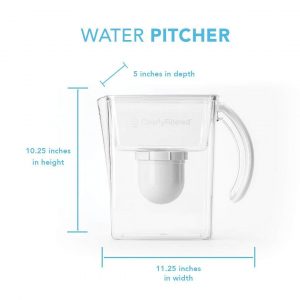 At first glance, you will easily come to know that the look is simple and slender. However, this simple filter pitcher is highly functional. Undeniably, it features a sleek design with tidy lines and a minimal build.
The design is such that you can easily access the reservoir. Further, the spout cover is so well placed that it does not come in the way at the time of pouring the water.
As compared to the earlier predecessors of Clearly Filtered, this one has a new design as well as appearance. While there are two quarts and that the structure is similar to before, two important design changes are noticeable.
First, the pitcher is built using high-quality titan plastic that is of medical grade as well as is free from BPA. All parts including the handle and lid are now made of this non-toxic plastic. This makes the pitcher pretty safer than before as well as quite static.
The second change reflecting a better design change is the water dam. This part stores the water that is unfiltered in the top reservoir and prevents it from mixing with the filtered water present in the bottom reservoir.
It takes care of this at the time of pouring. As a result, you can start pouring water without any risk, as there is no need to wait for all the water to get filtered.
Advanced Filtration Mechanism for Great Performance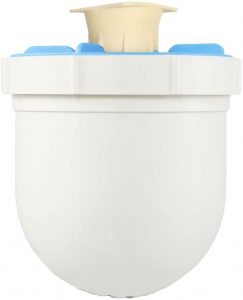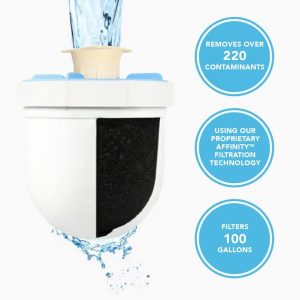 If you have looked for water filter pitchers, it is easy to notice that most of them have a similar look. Why is it so? This is because brand-making pitchers usually take filters or some other parts from another brand. Prior to 2018, Clearly Filtered also used to take filters from another brand.
Thus, a Clearly Filtered replacement filter belonged to some other brand. It was the Seychelles company that made all filters for Clearly Filtered.
However, for Clearly Filtered pitchers, the year 2018 marked the period of a systematic transformation to become extraordinary from the ordinary. Rather than continuing with the filters designed by an external source, the brand designed its own filtration technology that is called Affinity.
This technology is now a part of all filter pitchers by Clearly Filtered. It is a patented mix of filter channels that efficiently discards more than 220 harmful contaminants from your tap or well water.
These contaminants include fluoride, lead, pharmaceutical residues, chlorine, bacteria, prescription drugs, microplastics, herbicides, pesticides, chromium-6, mercury, cysts, nitrates, carcinogens such as glyphosate, and arsenic.
Other filter pitchers claim to eradicate fluoride and lead. However, this is the only filter pitcher that removes over 99% of them as per the independent laboratory testing result, as specified by the manufacturer. While fluoride removal is around 98.2%, the removal range of other contaminants is 99.5% to 99.9%.
Thus, this one could be your best fluoride water filter pitcher. The credit goes to the advanced filtration technology that also discards more contaminants than that of the mix of what Zero Water, Brita, and PUR can.
Does Clearly Filtered Fluoride Water Filter Pitcher Remove Contaminants?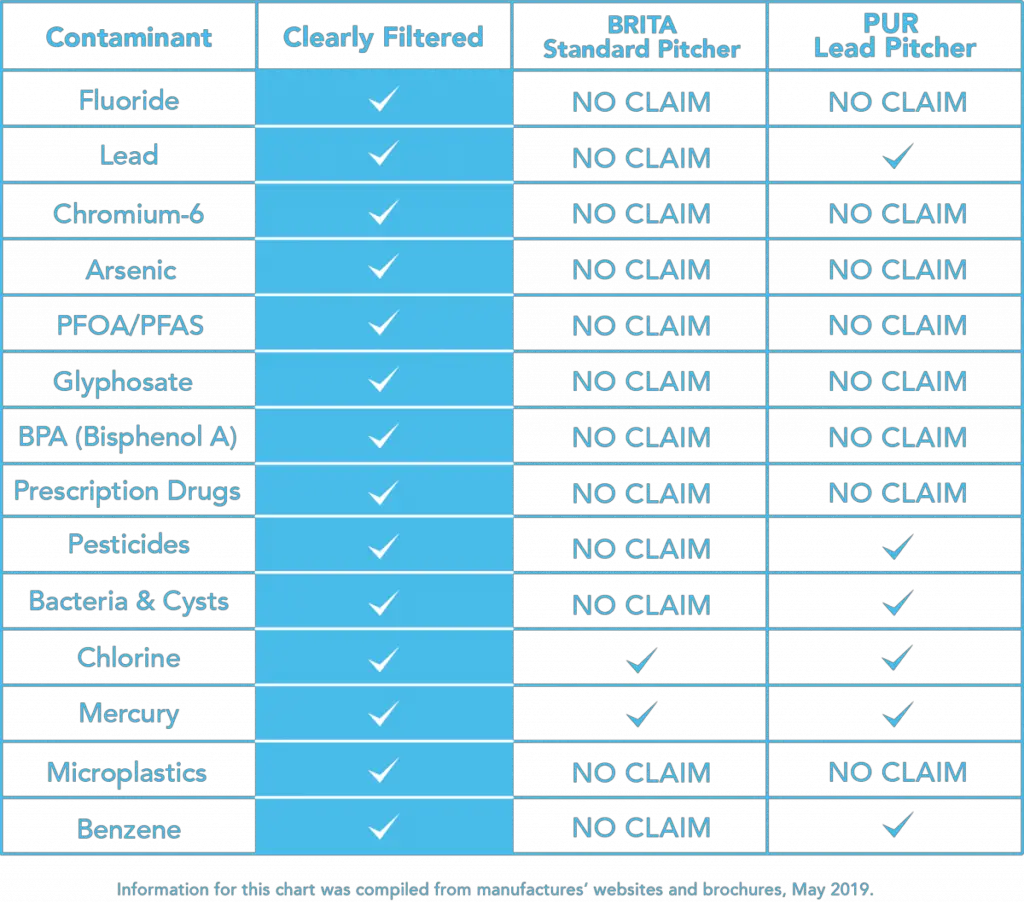 For all those who are searching as to which water filter pitcher removes the most contaminants, the answer is the Clearly Filtered water filter pitcher. After all, the list of contaminants is quite extensive, which it discards or reduces.
A special mention goes to the filter's ability to remove even Volatile Organic Compounds (VOCs), a class of contaminants not easy to remove. These compounds tend to dissolve in water as well as vaporize in the air. VOCs include dyes, bleaches, glues, and gasoline. You can completely rely on the Clearly Filtered pitcher if you intend to improve the tap water quality.
On the flip side, as per many Clearly Filtered reviews, this filter cannot discard viruses, which is similar to several other pitcher filters. However, the bonus point is that it also does not discard essential minerals such as calcium, potassium, and magnesium. This is something that a charcoal-based filter can ensure, which is what the consumers expect from water filters.
So, you will not be deprived of healthy water nutrients. Thanks to the selective permeability utility in the filter due to which it can decide which particles to retain and which to remove.
In short, this improved filter may not be decorative but its filtration power is matchless!
Certification Standards Fulfilled
This filter pitcher is just not an ordinary one. Its working and build are independently verified as per the stringent NSF as well as ANSI standards for removing contaminants. It has met the NSF/ANSI 473, 401, 244, 53, and 42 standards.
This is commendable, as most other filters fulfill only up to 42 and 53 standards. The brand also promises that all parts have gone through rigorous tests, including the well-known NSF filter tests.
Large Tank Capacity
This is another plus point of this filter pitcher. It comes with a big tank capacity. The upper reservoir has a capacity of around 64 oz. or 1/2 gallons, while the filtered ones are 85 oz. or 2/3rd gallons.
The latter capacity is enough to give you 10 cups, which fulfills the requirements of a family of three or four members. Due to the capacity being more than many other filter pitchers, you will end up refilling it less frequently than you would with other models.
Admirable Filter Life
When it is a matter of usage frequency, it is also important to consider the filter's lifespan. A single filter is designed to function effectively for around four months or filtering until 100 gallons of water prior to the need for a replacement is felt.
However, the exact shelf life will depend on how much water or filter you use. Usually, the first filter is included when the pitcher is shipped. However, at present, Clearly Filtered is giving you six filters along with the pitcher, which is remarkable.
Still, if you have got acquainted with the standard filters, the cost of replacement can be high, especially in the long term. However, it is worth it!
On the flip side, the pitcher has no indicator to inform that it is time to change the filter. There is also no auto-usage indicator informing the number of gallons already filtered. What you can do here is an approximate calculation to find out an estimate of the time to change the filter.
If you fill the 0.5-gallon top reservoir twice a day, it means that you will get 1 gallon of filtered water daily. If this is what the average user is, it shows that you should change the filter every 100 days.
Lifetime Warranty
Clearly Filtered seems to care profoundly. Thus, it has offered a lifetime warranty on its filter pitcher's replacement parts. This shows how confident the brand is in terms of the output quality and performance of its filtration system. At the same time, it indicates a dedication to anytime customer satisfaction.
The brand guarantees both the product and water quality. This company provides a free replacement in case the water filter pitcher splits apart. Well, there is no time limit for this offer.
Clearly Filtered Vs Brita Water Pitcher
Conclusion of Our Clearly Filtered Review
Concluding our Clearly Filtered review, we suggest this filter pitcher for your home if you are serious about having cleaner water with a more delectable taste than before. It is one of the best water filter pitchers for reducing taste impurities and removing the most toxic contaminants.
You can expect clean, delicious, and crisp water for drinking and other uses. Yes, it is not a cheap one but you get what you pay for!
Enjoy what you are reading? Do check out the Faucet Water filter Reviews as well.