Choosing the right faucet can be tricky if you want value for money and durability. Sure, you could do with one of those cheap brandless models you can find in every DIY store, but chances are you will be back there within a year or so.
At this point, it makes perfect sense to invest in something qualitative that will face the test of time – this is when Blanco faucet reviews kick in.
Blanco is currently one of the most reputable names on the market and part of a closed group of brands that provide high-quality materials, sophisticated mechanisms, good and clean looks. Furthermore, there are plenty of positive ratings and reviews to help you make a more informed decision.
Now, what are the top-rated Blanco faucets out there and what do you need to look for when about to buy one?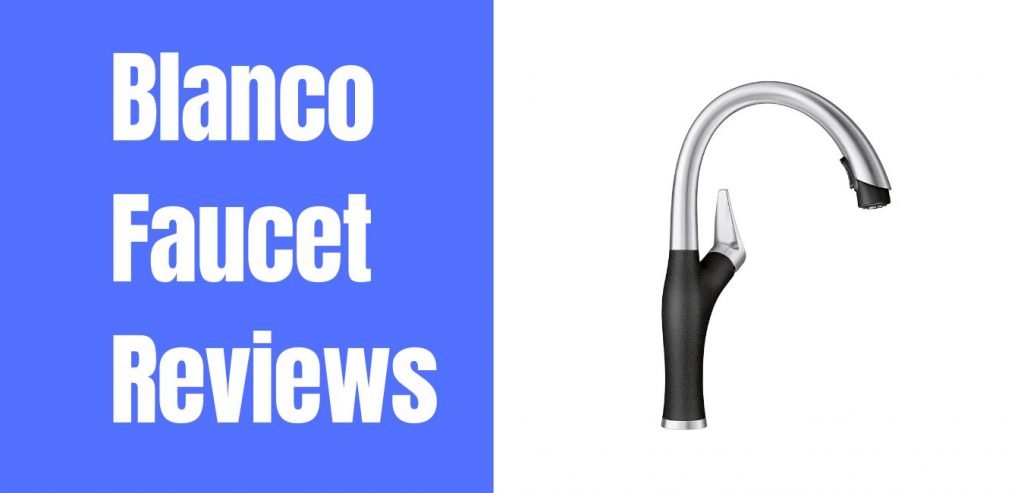 Comparison Table of the Blanco Faucet Reviews
Our picks
Here are the top-rated options based on our Blanco faucet reviews and customer ratings.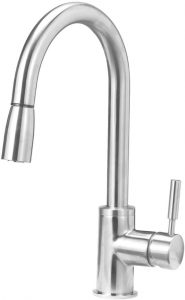 The 441647 model comes in a plethora of different colors of finishes, with stainless steel being the most common one. Other options include café brown, cinder, or metallic gray, among others. The bottom part of the faucet is the only element that changes color – the neck and handle are unchanged.
All in all, the tall unit features a long neck and a pulldown spray at the end – you also have a toggle spray function for it. There is one handle for everything – from the water pressure to the actual temperature, so it is quite convenient and features fewer parts that might potentially break down.
Apart from choosing the perfect color for it, you can also decide on the water flow. The 2.2GPM option is the best selling one – after all, everyone wants a good pressure. You can also go for 1.5GPM or 1.8GPM if you want to save some water.
Other than that, the unit is made of solid brass and comes with a ceramic disc cartridge. It has a single-hole installation – 1-3/8 inches. There is also a limited lifetime warranty available with it, so you can figure out how much confidence Blanco has in its products.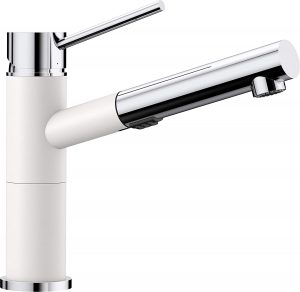 There are lots of Blanco faucet reviews regarding the 441491 Alfa Compact and it is easy to tell why. It is small, compact, and excellent if your space is limited. It is made of solid brass, so it will last for ages if properly looked after. As for the disc cartridge, it is made of durable ceramic.
Just like other Blanco faucets for sale, you will be able to give this one a bit of customization. There are a few different colors and finishes to choose from, including anthracite, polished chrome or satin nickel. Other than that, you can choose the 1.8GPM model or the 2.2GPM one.
The dual pull-out spray is extendable, while the spout can swivel to 120 degrees, so there is lots of room available if you need to throw something large in the sink. There is only one handle at the top that controls everything – the water pressure, as well as the temperature.
The installation is classic and straightforward over a traditional 1-3/8 inch hole. Other than that, it is worth noting that all Blanco faucets come with a limited lifetime warranty and this one makes no exception either.

Blanco's 442023 Artona kitchen faucet is available in a plethora of different finishes, so it makes no difference what kind of décor you have in your kitchen. It has a simplistic and futuristic design that will definitely make a statement. It has a long neck to allow large cookware in the sink, but it is still compact.
There are two different options when you consider the water flow. The best-selling one comes with 2.2GPM. However, whether you want to save water or you have to follow water restrictions, you can also get the 1.5GPM alternative instead.
Blanco faucets are known for providing quality through their durable and solid materials and this one follows the exact same rules. It has a solid brass body, while the disc cartridge is based on ceramic. It is not just durable, but also smooth.
The end of the neck features a pulldown sprayer. It is well hidden in the actual neck, so it looks sleek and elegant. Only the tip is visible, while the mounting mechanism ensures a stable connection. There is one handle only, while the neck swivels to 180 degrees. In terms of installation, the faucet is deck mounted. Plus, the faucet comes with a limited lifetime warranty.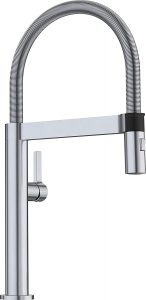 Given the wide variety of Blanco faucet reviews for the Culina Mini model, this option will certainly take your kitchen to another level. It is the type of faucet you normally see in professional environments, so your sink chores will certainly become easier and more enjoyable.
The model is basically a mini alternative to the Blanco Culina faucet, which is relatively large. It is compact and suitable for sinks without much space available. The Blanco Culina mini faucet is as handy as a secondary faucet. It comes with a few different finishes, as well as a limited lifetime warranty.
The sprayer is easy to use and has great pressure. It comes with a magnetic dock, so releasing or fitting it back in can be done with one hand only. It is worth noting that you can buy this faucet with two different water flow options – 1.8GPM and 2.2GPM.
The unit is designed with a solid brass body, while the spout is flexible and based on steel. A ceramic disc cartridge kicks in for reliability in the long run. To install this faucet, you will need a 1-3/8 inch hole. Plus, it is AB1953 compliant.
Looking for something small, compact, and easy to use? Is your space above the sink limited? How about a secondary faucet maybe? Based on a series of Blanco faucets, the Blancowega-S model could be the ideal choice. There are a few different finishes to choose from, as well as a limited lifetime warranty.
The unit features a single handle for everything you need – water pressure and temperature. There are two jet types, as well as a pull-out spray if you need to reach faraway areas of your sink – mandatory when you buy a compact faucet without a long neck.
A different version with low pressure is also available. All in all, the spout can swivel to 140 degrees, which is more than enough to take it out of the way. The cartridge features ceramic sealing, which is both durable and reliable.
The tube is nylon encased for flexibility when you use the sprayer. As for the installation, it is a classic one-hole model, so you can easily do it yourself. Everything you need (except for the tools) is included in the package, including connection tubes.
What To Look Out For When Buying The Best Blanco Faucets
Given the wide plethora of Blanco faucet reviews out there, you are likely to make a great choice. But then, it has to match your personal needs. There are many Blanco faucets for sale out there and each of them comes with its own recommendations, so you have to know precisely what to look for.
Looks
Looks will make the difference in your kitchen, but a faucet is not all about looks. Instead, you have to choose convenience. In terms of design and style, most Blanco faucet comes with more finishes, so you can easily find something to match your kitchen.
Spout reach and height
Got a shelf or a cabinet above the sink? Pay attention to the height of the spout then, as it may not fit. At the same time, consider your sink too. If you have a sink with three bowls, a spout with a limited reach may not really help you out.
Materials
Some materials are tougher and more durable than others. When it comes to valves, go for ceramic – it is the most reliable option out there. Such a design will prevent drips and leaks for many years. The good news is that most Blanco faucets come with ceramic valves.
The same goes for the actual faucet or the spout. You want something that will last for ages. Brass is a good option, but steel is not to be overlooked either.
Installation
How many holes does your sink have? Unsure of it? Look under it or simply remove the current faucet to determine the installation. Many Blanco kitchen faucets come with a classic one-hole installation, which will fit pretty much any system. It is still worth checking upfront.
A short video on how to install a single hole kitchen faucet :
Other than that, here are a few tips to help you out:
Pull-down sprayers are more reliable than side sprayers
A single handle faucet is more convenient
Opt for value for money
Frequently Asked Questions
Whether or not you have experience with faucets, it is perfectly normal to face a few issues when about to make a new purchase.
Do pull down faucets swivel?
Yes. Many of them come with long necks, but there are a few exceptions as well. They take space, but they compensate by offering a good swiveling degree, so they provide lots of space.
What is a good faucet flow rate?
According to most manufacturers and brands, 1.5GPM will be more than enough for most chores. Some claim that even 0.5GPM will allow you to do complete the job without too much hassle. More is better, but not always. Sometimes, it may splash all over. It is still worth having a high pressure that you can control based on your needs.
Is brass safe for a kitchen faucet?
Absolutely. Top manufacturers rely on lead-free brass for their settings, which is perfectly safe. However, if corrosion of kitchen faucet occurs do not panic as we found a solution to it.
Conclusion
Bottom line, Blanco has a great reputation. Chances are you might have heard of it already, but if you did not, there are plenty of Blanco faucet reviews to help you in choosing the right one.
Investing in quality will give you great value for money, especially if you do your homework and choose the right faucet for your kitchen.
Sources:
https://www.blanco.com/us-en/faucets/choosing-the-right-faucet/features-to-look-for/
https://en.wikipedia.org/wiki/Faucet_aerator
https://worldwide.espacenet.com/patent/search/family/006281858/publication/US4789103A?q=pn%3DUS4789103