Sadly, contaminants such as heavy metals, chlorine, pharmaceuticals, and viruses are now an integral part of water. Thus, it is essential to purify this water for our health and well-being.
However, this solution is restricted to only drinking water, which is the biggest mistake being done until now. Just think about whenever you take a shower, water your flowers, or brush your teeth; your skin, body, and those delicate flowers are exposed to these harmful pollutants.
Thus, it is wise to do something to ensure water is as clean as possible everywhere in your home. This is exactly where a whole house reverse osmosis system is likely to be your best solution system.
Even ideal for those with high water volume requirements, this system filters water before it reaches sinks, toilets, washing machines, and showers. Thus, a whole-house system cleans and purifies all home water before you use it.
While other standard water filters can also remove pollutants, whole house RO systems stand apart due to their ability to discard the smallest suspended particles and those dissolved such as salt. They can remove tiny ions, molecules, and bacteria or microorganisms. Thus, you get the cleanest water.
Finding the best whole house reverse osmosis filter can be perplexing, especially if you are buying for the first time. To prevent it, this guide informs you regarding what to look for while buying this device. It also reveals the top 5 whole house RO systems.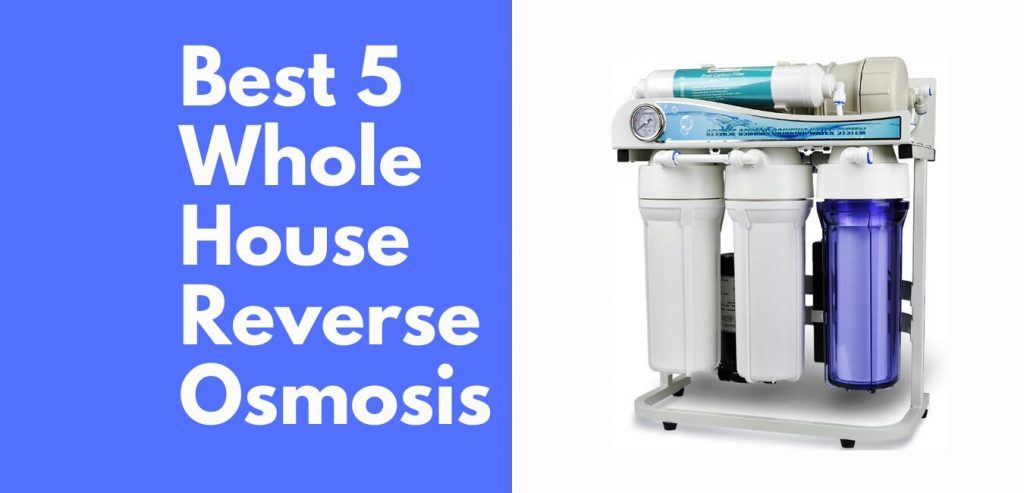 Comparison Table of Whole House Reverse Osmosis
Top 5 Whole House Reverse Osmosis Water Filtration System
Some whole house RO filters are better than the rest. They have more features and benefits to offer, ranging right from the latest filtering technology to lasting efficiency in removing all types of contaminants. So, here the top 5 whole house reverse osmosis systems to consider and compare: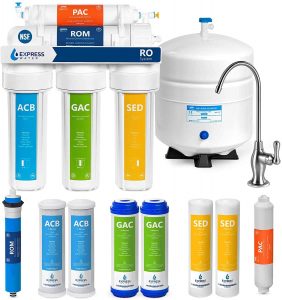 This is an NSF-certified 5-stage filtration system that removes up to 99.9% of contaminants including lead, dirt, pesticides, herbicides, viruses, heavy metals, chlorine, hydrocarbons, sulfate, arsenic, cyanide, nitrates, and Total Dissolved Solids (TDS).
The system has a high capacity of delivering 50 GPD at a rate of 0.8 GPM and at 40-80 psi. The first stage has a sediment filter to remove dirt, sand, and rust, while the carbon block and granular carbon filters at the second and third stages, respectively remove chlorine, odor-inducing ingredients, and volatile organic chemicals.
The fourth stage is where the RO membrane removes the toughest pollutants such as radium, lead, chromium, and arsenic. Finally, at the fifth stage, a post-activated carbon filter removing odor. There are eco-friendly coconut carbon filters to minimize waste and ensure better taste.
Other features include double-sealed filters for filter preservation and efficiency, a leak stop valve to avoid leakage, quick connect and brass feed adapters, and a 3.2-gallon capacity tank. ExpressWater doesn't need any introduction when it comes to the whole house water filter. Its Brand is also listed in our Best 5 Whole House Water Filtration System.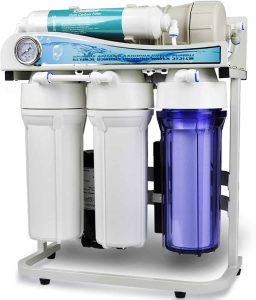 This tankless model uniquely features the patented dual-flow membrane releasing 500 gallons of water per day at 0.34 GPM while ensuring a 1:1 drain ratio. It discards 99.5% impurities through its five-stage filtration process. Although designed for commercial purposes, it works efficiently for homes and small businesses.
Due to the unique membrane, this model impresses you with its high efficiency. This membrane functions differently from other membranes of RO devices due to which it ensures the least waste and more filtering capacity.
An integrated booster pump associates this membrane and keeps the system functioning at full speed and a good pressure level. The effective filtration method starts with a sediment filter of 10-inch, 5-micron and proceeds to granular activated carbon having 5-micron pores and then to two 5-micron carbon blocks. Further, the system is suitable for sources whose water pressure is as low as 25 psi.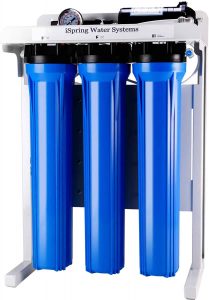 This whole house reverse osmosis filtration system is ideal for big families. Made for both domestic and commercial use, this system features 22-95 psi water pressure, 0.2 GPM capacity, and 20-inch filters giving 300 gallons of pure water.
It comes with three highly efficient RO membranes, each functioning at 100 GPD to offer 300 gallons per day. There is an integrated booster pump for boosting filtered water production by increasing the water pressure. It also minimizes the drain ratio to ensure minimal wastewater.
Other features include a free-standing frame, pressure gauge, and 3/8" fittings for a quicker water flow than usual. You can expect clean and deliciously-tasting water that is 99% pure and 98% free of lead.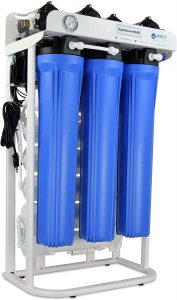 With four filtration phases, the WECO Hydrosense whole house reverses osmosis system gives you odor-free 500 GPD of water after removing 98.5% contaminants at 0.34 GPM and 55-80 psi. Its max TDS and high water pressure features make it a reliable model to use without extra treatment.
You can expect some exceptional features such as a high-grade RO mechanism via a Thin-Film Composite (TFC) membrane, pH neutralizer, and UV sanitizer. The optimal four-stage filtration is highly reliable with 5-micron filters.
Designed using powder-coated steel, the system uses the best RO membranes for removing TDS content. Its spiral-wound design gives max surface area for filtering water while wasting minimally (1:2 drain ratio). There are four pressure booster pumps, which hardly any other system has.
This one comes with a 7-stage filtration mechanism to remove 98% of pollutants, excluding iron and some microorganisms. Its most unique feature is its patented technology named full contact that adds magnesium as well as calcium two times for ensuring a superior taste.
This system offering 50 GPD of water at 40-95 PSI comes with robust catalytic carbon filtration for discarding stubborn chemicals and a non-electric pump, ensuring quicker flow rate and efficiency by reducing waste by up to 80%, giving a drain ratio of 4:1.
The modular filter design makes it easy to change the filters without wrenches. Other features include tank, RO adapter, and 3/8-inch feed water adapter.
What You Should Look for While Buying a Whole House Reverse Osmosis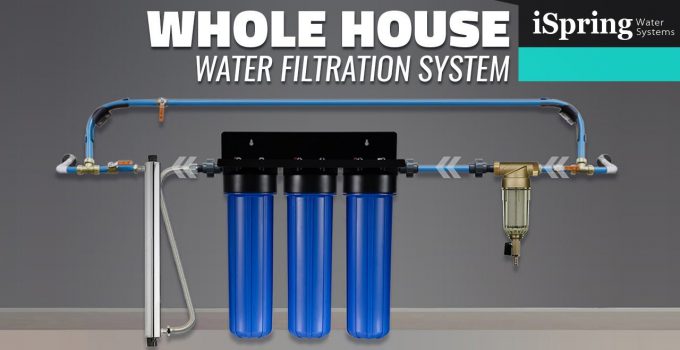 No two whole house reverse osmosis filtration systems are identical. In simple words, each of them will have some distinct feature or benefit due to which it stands apart from the rest. Moreover, these systems are not cheap although the money you spend is worth investing due to the assurance of the cleanest possible water for the whole house.
Thus, you need to be more vigilant and take time to do some research and comparison before purchasing one. Here is what you need to look for:
System Type
You can choose from two types of systems namely, standard and heavy-duty. The latter is tagged as the most efficient option due to its low-maintenance needs and lasting filters. You change the filters just once in five years.
On the other hand, a system with standard capacity comes with a filter that you should change twice a year. However, on the plus side, you get a chance to customize filters as per your needs. In simple words, you can set the filters to remove a specific pollutant.
Micron Rating
This factor is quite significant, as it informs about the efficiency of a whole house RO system. Technically, a micron is equivalent to one-millionth of a meter, which comes to "0.00004" inches. Thus, an inch contains around 25,000.
Thus, a system of 1-micron rating can filter bigger particles. Most whole-house systems are made to filter sediments that are 0.35 microns in size. A few can remove heavy metals, iron, and chlorine; while some have a water softener to ensure complete purification.
Water Flow
This is a mathematical indicator to find out the quantity of water produced in a specified amount of time. This rate of water flow is expressed as Gallons Per Minute (GPM), which can be between 5 to 40 GPMs.
Go with the range's upper end if you have a big family at home. Otherwise, the system will be unable to produce sufficient water. It will also result in significantly reduced water pressure.
Size
Let's assume that you need a minimum of 100 gallons per day. So, if you are a family of four, you need 400 gallons of filtered water. According to the experts, you should size an RO system such that it functions at 75% or below its actual capacity.
A few also suggest doubling your water requirement. Thus, a system offering 800 gallons of water per day is sufficient. Well, this rating that you see on a system's package is subject to optimum conditions.
Stage
Most whole house reverse osmosis systems come with two, three, and five-stage filtration mechanisms. With a five-stage mechanism, you can get 99.5% pure water. Thus, a five-stage whole-house filtration system can adequately serve you odorless water having the best taste.
A few systems have a three- or four-stage mechanism. While they may not as good as the five-stage systems, they will function reliably. These are the budget options to consider.
Filter Size and Types
The size of a filter is one of the contributors to the RO filter's functional efficiency. The standard filter size is 10". However, some systems have bigger filters whose size can go up to 20". These jumbo filters provide a bigger surface for filtering, which means that they trap more contaminants. It also decreases the drain ratio.
Different filters are available for removing different contaminants. For example, a backwashing carbon filter is required for removing chemicals like chlorine. However, you should choose a model that can remove all contaminants.
Water Pressure
A sufficient amount of water pressure is needed to let the water pass through the device's membrane for filtration. In cities, most houses need a minimum of 40 psi; anything lower will need a booster pump. Thus, choose a high-end PSI to enjoy more efficient filtration.
Frequently Asked Questions Regarding Whole House Reverse Osmosis Systems
How do I buy a whole house reverse osmosis filtration system that does not waste much water?
The risk of wasting too much water is why most people hesitate while buying an RO device. It is true that most systems waste several gallons for giving just 1 pure gallon of water.
Nevertheless, the best whole house reverse osmosis systems have a drain ratio of only 1:1. So, look for this ratio. This drastic reduction has been possible due to the advanced RO membranes and pressure-increasing pumps.
Should I buy an RO system with a tank or without it?
Models without a tank function well for small houses where there is not sufficient space to install a big tank beneath the sink. On the other hand, big, corporate setups will need a tank for fulfilling their needs of high capacity and good storage.
When and how do I change the filters?
It depends on the system and filter types. Mostly, the manufacturer manual gives you a precise answer.
Conclusion
Finally, selecting the best whole house reverse osmosis system depends on how much water you use per day and which contaminants are present in it. It is highly recommended to choose a system by considering the aforementioned buying guide factors.