At first, glance, browsing the best kitchen faucets for hard water is not necessarily your top priority, whether you redesign your kitchen or build it from scratch. After all, many faucets can deal with hard water, yet they require regular maintenance. A product designed to last will most likely be sturdier and require less maintenance. Now, the main application of a faucet is to give you cold and hot water, right?
While their main role looks pretty simple, the truth is they also play an integral part in your kitchen's design. Of course, your personal preferences will always come into play, but at the end of the day, you want a product that will work and also look good in the kitchen.
Investing in a kitchen faucet might seem a little overwhelming. But perhaps it is time to quit buying random faucets from the nearest hardware store. Instead, do your homework on quality high-end faucets that will boost the functionality of your kitchen, require little to no maintenance and improve the overall appearance of your special room.
So, what are the best kitchen faucets for hard water, and what makes them so special?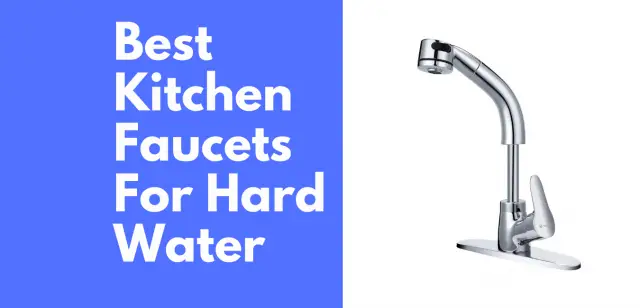 Comparison Table Of 
5 Best Kitchen Faucets For Hard Water
Top 5 Best Kitchen Faucets For Hard Water
Our picks are based on a series of reviews from past buyers and customers, as well as the overall rating on the market.
Voolan does not need too many presentations in this industry. You cannot find these products in every random hardware store, but they will most likely draw your attention in professional shops. The company has specialized in top-notch faucets that will face the test of time and improve your kitchen experience without ruining your décor.
Voolan's faucets are designed to match any room and this one makes no exception either. It was released in the spring of 2019, so it represents one of the hottest newcomers from the company, as well as its top-rated faucet.
It is also worth noting that you can fit it in your kitchen or your bathroom – or maybe one model in both rooms. If you are after the best kitchen faucets for hard water, you are after durability and resistance to all kinds of harmful elements.
This faucet is not just durable, but also reliable. Unlike the average faucets you might be familiar with, it is strengthened with top-quality ceramic valves – more durable and likely to take stress, regardless of how many times a day you use it.
The Best Part
It features a beautiful chrome finish surface, luxurious and solid as well. Furthermore, chrome is the ideal option to deal with hard water. After all, it's the surface that can take the stress from the minerals in hard water. It will successfully resist rust, not to mention corrosive actions.
It goes up or down from the base of the actual arm. While this feature may look like a random fancy gimmick to squeeze some money out of you, it is not. In fact, you will realize how important it is when you will have to deal with tall stuff. Whether it is tall cookware, some veggies, or a large turkey, the lifting arm will make your life easier.
The lifting arm is not everything though. As you get used to this faucet, you will notice an innovative hose. It can also retract by itself when released.
It is not a good idea to just let it go in by itself, as the handle will hit other parts and scratch them. Just guide it nicely into the retracting mechanism. Its main role is to provide extra flexibility – water delivery wherever you need it due to the extra range of motion. All these are possible with a swivel adapter.
On another note, the more mechanisms, buttons, and handles you have, the less durable your faucet will be. More moving parts will inevitably imply more corrosion and exposure. In an attempt to deal with hard water more efficiently, Voolan has implemented a single handle design. You can use it to control pretty much everything – from the water flow volume to the actual water temperature. It is soft and features a smooth movement.

Worried that such faucet may not be able to fit inside your kitchen?
It is only a misconception. You do not have to settle for something cheap just because there is a higher chance to match. This product has classic fittings. It will work with classic ½" or 3/8" water supply hoses, you just have to make small adjustments. Besides, it is so diversified that it can fit both single or three-hole designs. The escutcheon is included in the package, so you do not have to buy anything separately.
Installing the faucet makes a good DIY operation if you are the type. Take the brass nut out, drop it in a gasket, then take the pipe through the hole in your sink. Screw the brass nut in, then tighten it.
The pull-down pipe has to be screwed in after, followed by the two water supply pipes. They go straight into the faucet. Take the hose down, bring in the gravity ball and tighten. Connect the angle valve to the waterline. Obviously, the water supply should be off before performing all these.
Too complicated for you? Relax, the faucet comes with a detailed manual of instructions. It also features graphics for you to understand how it goes.
If you have replaced a faucet before, the operation is straightforward and should not take you more than half an hour. The overall design will match most kitchens. You benefit from a high arch product that features a 360-degree rotation – even better if you have an unusual double sink arrangement.
Since it goes up and down and it rotates around, you have lots of extra room for plenty of sink-related activities. As for the actual size, the faucet measures 13 inches in height, while the hose measures 35 inches in length. It has a deck and altogether, it weighs around 3.75 pounds.
WEWE is yet another popular brand that you are less likely to find in the average hardware store at the corner of the street. This faucet is also listed in our Best 5 Kitchen faucets with highest flow rate.
Its products are designed to face the test of time and surpass most of the competition in terms of durability – not to mention the high-quality standards. This single-handle faucet makes no difference.
This faucet has been initially released in the summer of 2016 where it was so successful that its production still goes on today.
It is widely used in residential kitchens, but it is also gaining popularity in commercial kitchens – mostly small or medium environments. It provides lots of reliability, but it is also built to look good and match a modern décor. The rare design makes it one of the best kitchen faucets for hard water if you are after something that stands out in the crowd.
Mix it with the right décor and it will most likely become the focal point in your kitchen. It features a sleek design looking like a tulip. Practically, the neck is thin and elegant.
This is not a random faucet. It comes with not less than three spraying settings. Classic faucets come in one style. Fancier faucets come in two styles. This one has three different modes. The basic one is classic – stream for filling water. You can also spray for more efficient and faster rinsing, not to mention pausing. The pause mode is ideal to avoid splashing water all over your kitchen.

Sophisticated?
It sounds sophisticated, but it is not. It will take you less than a day to get used to this modern faucet.  After all, you only have one handle. It provides full control over everything you need, the water flow, and the water temperature. Since there are not so many moving parts, maintenance is clearly much easier too.
Unlike classic faucets, the spout is built to swivel to 360 degrees. This option will not necessarily help you if you have a classic sink – it is more suitable for triple or back-to-back sinks. However, you will find it efficient if you have to fit something large in your sink, such as a turkey or perhaps lots of dishes. Simply take the spout out of the way to make some extra room.
The sprayer head is removable, meaning you can pull it out. The feature is great if you have an awkwardly shaped object in your sink, as well as a heavy one.
Instead of moving the object around or turning it upside down, you can simply pull the sprayer head and move it around. Once done, the head will easily retract back to the spout. It is recommended to hold it while retracting or it might hit and scratch other parts.
When it comes to the overall maintenance, you will love how durable and sturdy this faucet is. It is the type of faucet that will last for ages without too much work. The finish is designed to resist corrosion – a common issue with hard water due to all the minerals in its composition.
The finish will not get dirty too easily, as dirt can be removed without too much stress with nothing but a cloth or the soft side of a sponge.
Worry less about the difficult installation associated with high-end kitchen faucets
This model from WEWE can be done by a professional or a DIY enthusiast. You just need to pull down the water line hose and make some connections. Luckily, you have a detailed manual of instructions with images, so you should not struggle too much.
Even if you have never installed a faucet before, the whole operation should take you less than half an hour. After all, most parts are already preinstalled and put together for your convenience. Whether you have a classic one-hole or a more advanced three-hole system, the faucet will match.
The superior finish is based on brushed nickel. The main body consists of brass, while the spout is made of stainless steel – likely to last forever. The sprayer head is based on hard ABS plastic – just like the aerator, while the handle consists of zinc alloy. The valve is ceramic.
The package has everything you might need for easy installation, yet you should still have a few screwdrivers around. Apart from the actual faucet, you have a deck plate that will perfectly match it and make a good base. You also get two water line hoses and a few adapters. Mounting accessories are included too.
Sizing is not to be overlooked either. Make sure the faucet will match your kitchen sink, especially if you have cabinets above it. The product measures 22.7x11x3.1 inches and weighs just over five pounds. It has a contemporary look, but it might as well match an old-fashioned kitchen – it is all about personal styling preferences.
Video credit : Are Jay
FORIOUS has some of the most appreciated faucets on the market. The brand has a bunch of high-end kitchen faucets in its portfolio that are suitable for both residential and commercial kitchens. They are relatively large when compared to classic faucets and will most likely ease your jobs by the sink. This product makes no exception either.
The faucet has been released in the spring of 2018. Given the brand's reputation, it gained notoriety within months. These days, you can find it in large stores, rather than the small hardware shop at the corner of the street. It is meant to last you for ages, whether you live alone or you have a big family using the faucet dozens of times a day.
Assisting touch control technology is one of its most attractive features. A basic touch will start the water flow.
Whether you touch the body or the spout, water will start going straight away. The feature is useful when both of your hands are dirty. You have probably tried already to turn the water on with the back of your hands or perhaps the elbow, only to avoid greasing the faucet – well, such problems are gone now.
Just like the best kitchen faucets for hard water, this one has a pullout sprayer as well. This option may seem irrelevant at first, especially if you need a new faucet for your own kitchen and not a business. But then, you will understand its importance when you have something large in your kitchen. Be it a large chicken or a massive pot, you no longer have to lift it, hold it in the air and turn it around. Just pull the sprayer out and rinse the sides.

Functionality
The sprayer has a 360-degree swiveling function, so it can go anywhere, anytime. There are two functions on the sprayer head. One of them allows classic spraying, while the other one involves streaming. Choosing between one function and another is a piece of cake. You have a convenient button on the sprayer, so touch it slightly and the mode will automatically change.
The overall maintenance of this faucet will not disappoint you either. You always try to clean the sink and faucet once you are done cooking or washing dishes. The good news is there is not too much washing involved here. The finishing is less likely to take smudge or fingerprints, while touch-activated functions will keep everything else spot-free.
Now, what should you expect in terms of materials and quality standards? Unlike classic faucets, this one will provide quality and durability.
It is entirely made of copper. It is an old-school material used in faucets made decades ago when things were still solid and likely to last for years. As for the finishing, it is based on brushed nickel. It can resist corrosion and rust, so it will face all the issues associated with the minerals in hard water. Also not shiny, but matte and classic.
It is important to know that this model is not just a basic faucet that you install straight away and expose to water. In fact, it has a bunch of fancy features that require actual power to run.
Four AA batteries are required to keep the faucet running or at least most of its functions. It is not such a big deal though – there is not too much power required, so batteries are likely to last for around a year.
Installation
The installation is fairly simple. Of course, you can hire a certified plumber to get the job done for you, but you might as well do it yourself.
The operation is straightforward, while the package includes a detailed manual of instructions with pictures. It makes a great DIY project for your kitchen. It might be a bit difficult if you have an old sink, but this is because things are quite tight, so any best kitchen faucets for hard water you get will bring in the same issues.
There are a few tips and tricks to ensure the electric part works and there are no leaks. Make sure you never miss the rubber on the black box. Most leaking issues occur because DIYers tend to forget about such small things.
The same rule applies to the rubber of the brass that goes on the hoses. Slightly bend the red copper, as the metallic parts are not supposed to touch each other. As for the red cable, it should not touch anything.
Since it is based on copper, the faucet might feel a bit heavy at first. It is perfectly normal. Besides, quality stuff is never lightweight. All in all, the unit will weigh just over 5.3 pounds. It is heavier than other faucets in this segment but the installation will not pose any trouble at all. One thing is for sure it is all about stability and sturdiness.
Video Credit: Forious faucet
Looking for the best kitchen faucets for hard water without having to spend a fortune on water softeners and all kinds of sophisticated mechanisms? Consider it done. Delta Faucet is a leading name on the market when it comes to cost-efficiency.
Its faucets cost a bit more than the average unit made in the middle of nowhere and sold at the small hardware shop on your street, but the quality leaves no room for unexpected issues.
To help you understand what to expect, you should know that all faucets from this brand come with a limited lifetime warranty, which just shows how much confidence the manufacturer has in its products. You do not have to worry about being gentle on this faucet or using it as little as possible, knowing that you are covered anyway.
The installation is pretty straightforward. Is this the first faucet you are installing? Have you experienced it? It makes no difference. The manual instructions will give you all the details you need. Obviously, feel free to hire a professional plumber if you do not have the time to do it, but generally, most DIYers should handle the procedure with no problems at all. It is important to know that the faucet is built to match four-hole configurations – eight-inch designs.
There are no stoppers on the spout, meaning there are no such things as maximum left or maximum right. This issue is classic and can be a problem for those with large sinks or double sinks. This one features a 360-degree swiveling function, so you can easily go from one sink to another or simply take the spout out of the way if you have something large in the sink. It provides more space and convenience.

The Spouts
Most high-end kitchen faucets come with tall and long units. They are convenient, indeed. On the other hand, this faucet has a low arc design. The spout is not that tall, but you can still clear your sink if you have something big in it due to the 360 swiveling function. Besides, a low arc design is more suitable for those who do not have too much room above their sinks.
The actual faucet is not the only thing that will surprise you. The package also comes with a sprayer. Unlike faucets with long spouts, the sprayer is not built-in at the end of the spout.
Instead, it comes as a separate unit. It can be installed on the side. Also, it is retractable and comes with a decent hose, so you can clean the sink or rinse large items with no problems at all.
Given the overall style of this faucet – a classic spout and a separate sprayer, it is obviously more suitable for residential kitchens with limited space. However, given its reliability and durability against hard water, it is just as handy for commercial kitchens – mostly appropriate for small or medium businesses.
It is worth noting that the package does not include everything you need. Even so, the faucet still comes with excellent value for money. The installation requires standard supply lines. You can also use the ones from the previous faucet if they are in good condition. Although you have to purchase them separately, the overall cost will still beat most of the competition in this range.
Features
The unit has a single handle. You will use it to control the water flow, as well as the temperature. It has fewer moving parts than other faucets, meaning there are fewer things that can break down.
The side sprayer is similar. You can take it out due to the retractable hose, then press the button on top of it to spray. After all, you spray with one hand, so you can use it to rinse stuff, rather than wash it.
When it comes to materials, the faucet is made of brass. It is a classic material in this industry, but it is strengthened and thicker than no-name faucets, only to be able to handle hard water without too much hassle.
On the outside, you have a beautiful chrome finish. The sprayer is based on brass and plastic, so it is black and chrome. You can also choose the stainless steel option, but it is more expensive.
Given the size and the classic operation of this faucet – no fancy bells and whistles, the installation will not pose too many issues. Besides, the unit is relatively lightweight – just under 2.9 pounds. It is a standard deck-mounted unit. Its flow rate goes up to 1.8GPM, which is standard for such faucets. As for the base, both the faucet and the sprayer come with a solid brass plate covered in the same chrome finish.
On a side note, there are a few other aspects that can guarantee the quality of this faucet. It was initially released in 2011 and it is still being produced today. What does that tell you? Exactly! People love it and it works. Otherwise, it would have been discontinued already.
Video Credit: Peerless Faucet
Nothing can indicate quality and reliability than a manufacturer providing a lifetime guarantee for its products. GAVAER guarantees all of its products for a lifetime and this faucet makes no exception either. Basically, you can buy this unit knowing that you will never have to worry again. It is built to last and resist all kinds of issues, especially those associated with the minerals in hard water.
Different products come with different quality standards, but when it comes to the best kitchen faucets for hard water, you should expect more efficiency in terms of materials. For example, the fastening nut is made of solid brass.
The disc valve is ceramic. Believe it or not, the disc valve takes around 500,000 tests for opening and closing. It is rated to last more than that though. Even if you get this faucet for a commercial kitchen, it will still surprise you with its durability.
Another difference between this faucet and the average unit from the nearest shop is safety. Safety standards have never been more important in a world where more and more people try to eliminate toxicity from their lives. There is no nickel or lead in the composition of this unit.
Sure, the exterior is based on nickel, but it will not affect the water at all – perfectly alright to keep it away from your drinking water.

How about the installation then?
If you are an enthusiastic DIYer, chances are the installation is one of the factors that can help you make a decision. All in all, the product relies on standard hoses for hot and cold water – 3/8 inch. Whether you want to hire a plumber or you want to get the job done yourself, you will find all the instructions in the manual – images included too.
If you have a different system, the package also comes with a modern ½ inch adapter. It will ensure you can match the faucet to different sizing requirements. One hole system? Three-hole system? No problem at all. Both options are supported – even if this is the first time you put a faucet on, you will handle it in no time. An optional escutcheon is included for various types of installations.
Now, what should you expect from the actual design? While recommended for both residential and small commercial sinks, this faucet has a professional design. It comes with a tall and long spout, so you can fit large items or plenty of dishes in the sink without having the water splash you. It has its own plate too, as well as a single side handle.
The handle is on one side to avoid problems with the spout – classic faucets often have such problems. You will control both the water temperature and flow with this handle. The multilayer brushed nickel gives the faucet a modern look. It is not shiny, but matte. It can match both contemporary and more old-fashioned kitchens.
Cheap and Reliable
Value for money is one of the first things you look for when hunting the best kitchen faucets for hard water and fortunately, GAVAER does not fool around. This faucet costs two or three times less than other units in this segment. You probably imagine it has something to do with quality – wrong!
In fact, it has no fancy bells and whistles. While useful at times, you do not have a sprayer. You do not have buttons, batteries, water flow modes, and features like this, hence the lower price and the good value for money.
With all these, the water flow is extremely efficient and smooth. The faucet comes with a top-notch aerator. It ensures a soft water flow. There will be no annoying noise or splashing. You can reduce the water waste in the long run, but also ensure a more comfortable experience when you do the dishes.
A very well-maintained copper is proven to work for ages because these best kitchen faucets for hard water are so strong they will not need much maintenance. You might also want to note that the spout is the shape of an arched gooseneck.
Video Credit: HeroicHouse
What To Look For In The Best Kitchen Faucets For Hard Water
Browsing the best faucets for hard water can be a bit tricky. You do have options – no doubts about it. However, many facets are similar, yet they have different prices. Choosing the right one is definitely a challenge, hence the necessity of doing your homework upfront.
It makes no difference if you remodel your old kitchen or you build a brand new kitchen from scratch. The faucet is one of the most important considerations. Often overlooked, try to picture your life in the kitchen without a faucet – exactly!
You use the kitchen faucet on a daily basis, whether you wash an apple, cook, do dishes or just rinse your hands. A bad choice will be regrettable when you realize you have to spend more money on repairs and replacements – which is exactly why you have to research your options.
Keep in mind that hard water comes with some extra requirements. The average kitchen faucet made by a random company in the middle of nowhere (the kind of company you cannot even get in touch with) might work for a bit if you have soft water, but hard water asks for plenty of consideration if you want to avoid the hassle. So, what do you need to look for when browsing high-end kitchen faucets?
Current Kitchen Fixtures
If you build your kitchen from scratch, you can, indeed, start with the faucet. Ask whoever does your kitchen to bring in the right fixtures for the faucet you purchase. But then, this is not always the case. It is usually the other way around. You have to buy the faucet considering the existing kitchen fixtures.
When it comes to the actual design and style, experts recommend a faucet that will match the appearance of your countertop. It is not necessarily about colors though. Other than that, double-check your sink.
If you already have one and you just need to replace the faucet, consider its size, as well as the size of the hoses.
Installation Procedures
Now, how about the installation? If money is not a problem for you and you are less likely to do it yourself, this step is irrelevant. What if you want to do it yourself? More and more people learn to replace faucets themselves – a great DIY project and a rewarding feeling.
Many high-end kitchen faucets made these days are easy to install. The most sophisticated ones come with more holes and screws for extra stability, but you should still be able to do it. They are compatible with more hole designs anyway, whether they have extra holes or various adapters.
Health-Related Standards
Water is hard when it is rich in too many minerals, not to mention the chemicals. All these elements tend to be corrosive, so they aim to damage the faucet in the long run. When corrosion occurs, some of the materials in the faucet will get into your drinking water, causing poisoning.
When browsing the best kitchen faucets for hard water, make sure you look for brands with a good reputation.
The faucet should be durable and less likely to corrode.

Most 

faucets 

are 

designed 

to 

withstand 

rust 

and corrosion.

These are your primary choices, as all sorts of possible health-related issues can be avoided.
Another Brand Compatibility
This is not always the main consideration, but it is definitely worth a little attention. Whether it happens in two years or in 15 years, there might be a point when you will consider switching to another brand. Maybe a new technology comes up in the future, who knows? A faucet that can match other brands might save you money.
Unfortunately, many manufacturers today try to avoid this, so customers stick to their products. However, you can also find products that will match other brands.
The key here is flexibility – you want a faucet that is flexible and can fit all kinds of fixtures and pipes without any issues.
Water Control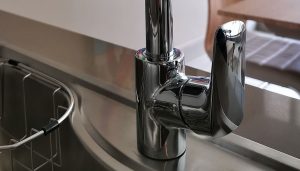 How easy is it to use your new faucet? If you have to press three buttons and rotate a handle to get the water going, you are buying the wrong item. It might look fancy and sophisticated, but it will only cause frustration in the long run.
Ease of use is a top priority, not to mention water control. Not only are these requirements essential for your convenience, but they will also save money. Good water control will prevent you from wasting water and high bills.
While not always a general rule, super sophisticated faucets with all kinds of complex features will have impressive losses over time. The water control is not as efficient as it may seem, so your water bills will skyrocket. It may also help to get full control, high pressure, and no splashes.
Shape and Style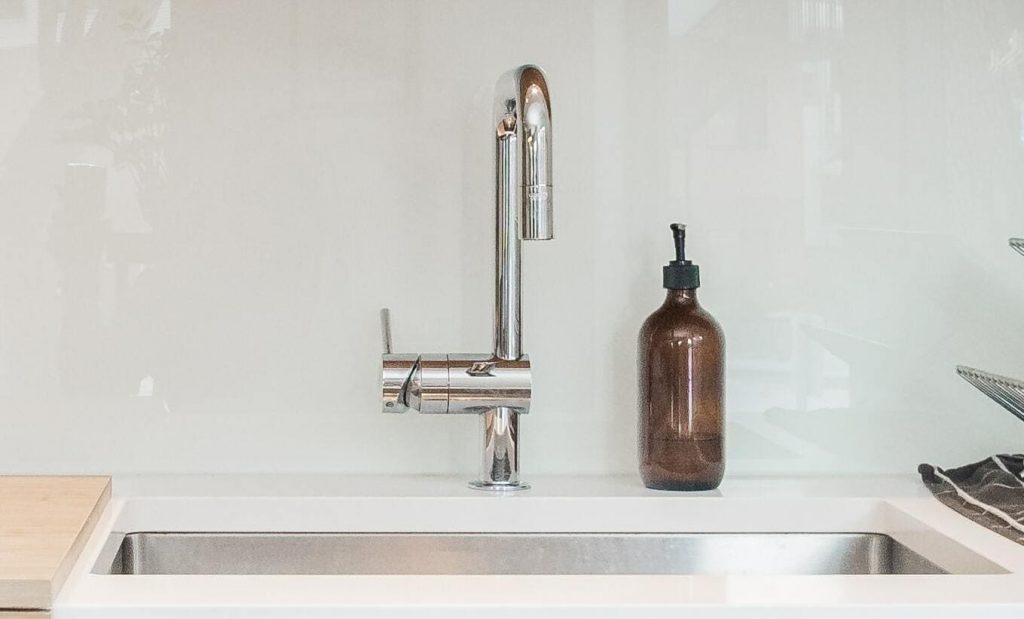 At the end of the day, you will feel unhappy if the faucet does not look too good or suitable for your kitchen, despite its actual efficiency.
The good news is that faucets come in all kinds of shapes, sizes, and styles.
There are no rules in choosing the perfect model – just research the market and become familiar with the most popular options. Plus, consider the benefits and disadvantages associated with each type.
For instance, gooseneck models are quite popular among high-end kitchen faucets these days. They look fancy and they allow extra space in the sink. But at the same time, it is not a good idea if you have a shallow sink.
Finish and Build
The best kitchen faucets for hard water will not really let you down. Apart from corrosion, you want materials that can withstand rust and tarnish. As for the finish, it is all about the appearance. Most commonly, you can choose between chrome (shiny) and matte finishes.
Durability
If you have hard water, you probably expect any faucet to give up on you at some point or another. Wrong! Sure, the average faucet from an unknown brand bought from a random hardware store will eventually fail on you, but this is not the case with a quality unit.
Hard water is rich in chlorine and salt, as well as minerals like calcium. These are the main elements responsible for the corrosion. They wear faucets out, leading to unnecessary expenses for repairs or replacements.
Ease of Fitting
Fitting the faucet yourself will save you money.
A professional plumber will charge you. Time means money, but wasting half an hour to install your faucet will actually save you a bit of money. Modern faucets are easy to install these days, but also easy to replace. You only need a few basic tools, such as a screwdriver and a wrench.
Maintenance
Never overlook maintenance when buying a new faucet. No one really thinks about it because, after all, how hard can it be to wipe a faucet clean every now and then? It is definitely easy, but faucet maintenance requires much more than that. A clean faucet will last longer, provide quality results and save you money.
Consider the cleaning when buying one – moving parts, tight or narrow areas and so on. Keeping your unit clean for a long time will result in a longer experience. So, why are dirty faucets wearing out so fast? It's due to the dirt and minerals that are sticking to it.
Multi-Function Capabilities
Sometimes, random bells and whistles feel like multi-function features. In fact, some of them only add to the price. Many new kitchens feature two sinks – more convenience and space. From this point of view, you need the best kitchen faucets for hard water with a wide swiveling angle – ideally, it should be a 360-degree angle.
A retractable sprayer may also be a good option, especially when it comes to large items, such as a turkey. You cannot always lift it in the air and turn it upside down, so a bit of flexibility comes in handy.
It might help to have a faucet that can provide hot water, cold water, and a middle option between them. Opt for two control points, so optimizing water flow, and temperature will never be an issue.
Frequently asked questions
What is hard water?
Hard water is more common than soft water. It is the primary option for most homes, as well as one of the most popular issues associated with both residential and commercial properties. To be hard, water must have dissolved minerals up to 1GPG.
What minerals make water hard?
More minerals are associated with hard water. Chlorine, for example, can also contribute to water hardness. Also, calcium is the most common mineral found in tap water and also the most harmful.
Is the decorative plate important when buying a new faucet?
At first glance, it looks like the plate under the faucet is decorative. It does not seem to have other purposes. In other words, you can install it there, but you might as well leave it behind. It will not affect the water flow or the operation of your faucet. Aesthetics might, indeed, represent the most common role of this plate, which is available in almost every kit on the market.
However, it actually has a few roles. For example, the plate adds to the stability of your faucet. If the faucet does not have one, it might tremble if the water comes with very high pressure. Constantly moving will inevitably cause parts to go loose, leading to leaks and other associated problems.
Other than that, the decorative plate is also intended to seal the area around the faucet. It does not do the best job in the world, as water can easily go around it if it splashes too much. For this reason, some people choose to use transparent sealant around it.
Is the finish of a faucet important when buying one?
There are lots of options on the market when it comes to the best kitchen faucets for hard water and the final finish of your faucet, which can make the final decision a bit daunting. At first glance, it looks like the finish is nothing but a matter of aesthetics. In other words, it is up to your personal preferences.
But then, the finish may also have a role in functionality. Certain finishes are better than others when it comes to their resistance to corrosion or rust. At the same time, you do not want a toxic finish. If it corrodes, you do not want all kinds of heavy chemicals in your drinking water, do you?
Finally, the finish affects the overall maintenance too. Some finishes are easy to clean with nothing but a cloth, while others require professional cleaners.
Is the disk cartridge important when buying a new faucet?
Generally speaking, high-end kitchen faucets come with disc cartridges. Or better said, faucets with disc cartridges tend to be a bit more expensive than others. Why?
The disc cartridge affects the durability of your faucet. In other words, this part can prevent leaks and will make your faucet last longer. While it does cost more than simple faucets, it is worth the investment, as it pays for itself over time.
Does the design of a faucet affect its overall functionality?
To lots of buyers, the design is a matter of personal preferences only – all about aesthetics. You should still keep your personal preferences in mind when buying the best kitchen faucets for hard water.
Different designs have different pros and cons, as well as different functionalities. It pays off checking out the customer's specifications. At the end of the day, you buy a new faucet for its functionality, rather than its looks.
The lifespan of a Faucet?
There are many factors to take into consideration, so it is almost impossible to tell the average lifespan of a new faucet. Some of these factors include the quality standards, materials used in its composition, how often you use the faucet and what kind of water you have.
The best kitchen faucets for hard water will give you great value for money though, even if you have to spend a bit more than normal.
Conclusion
As a short final conclusion, deciding on the best kitchen faucets for hard water can be challenging, but not impossible. The above-mentioned products can satisfy the overall necessities in both commercial and residential kitchens, yet personal preferences and needs always come into play.
As a general rule of thumb, you want to make sure that your new faucet is functional and then good-looking. Luckily, you do have a bunch of good options to choose from.
Resources:
https://www.moen.com/kitchen/design-planning/kitchen-faucets-101
https://www.familyhandyman.com/plumbing/tips-on-choosing-a-faucet
https://www.thespruce.com/how-to-buy-a-kitchen-faucet-2718815