Gone are those days when those traditional kitchen faucets used to rule over the buyer's preferences to persuade for a quick investment. These faucets have evolved significantly and so do their brands. Thus, it is not uncommon to look for the best kitchen faucet brands.
A well-chosen model can not only ensure a highly satisfactory performance but also a matching style to your kitchen décor to be the focal point. There are innumerable designs and styles available in the market due to which you are bound to get the look and feel of your choice.
A faucet is a long-term asset. Thus, you should choose the most suitable one. For this, you need the right amount of information, which is what this guide gives you.
Comparison Table Of  Best Kitchen Faucet Brands
Buying Guide: Things to Consider While Buying a Faucet
Every kitchen has its distinct requirements and theme due to which you need to customize your needs accordingly instead of blindly following what is popular or what other people prefer or choose. In other words, you need to choose a faucet that can fulfill all your requirements and is within your budget.
Once you know the faucet types and valve types, your search results definitely tend to shrink. However, that does not mean that your goal of choosing the best faucet is met. You further have to shrink this result set by applying the filters of features.
You will find many options for just one type of faucet and valve. The resulting list can be long enough to confuse you as to which one is the most suitable for your kitchen.
So, to get rid of this confusion, it is wise to filter these results based on the following features, which should then be mapped with your requirements to find the best brand as well as the faucet model.
Setup
The setup feature of a faucet is known as a configuration that refers to the manner in which the pipework for the faucet is set. In simple terms, you need to choose a faucet that fits the mounting holes in the kitchen countertop or sink.
If this match does not happen, you will either end up with left-out holes or make more holes, the latter being time-consuming. Spare holes are okay to have, as you can use set a panel on them. However, instead of doing this extra work, it is wise to select a faucet that has a fitting configuration.
A few faucets need just a single hole and all pipework goes through it after which the water temperatures are blended as one or isolated into two spouts. For two holes, a two-hole configuration is ideal.
Here, two separate pipes are configured for hot and cold water and the faucet may possess a single or a double spout. There are even faucets that come with four holes. They typically support a 3-hole configuration and the fourth one is left for an accessory like a handwash dispenser.
However, they are more suitable for bigger countertops and sinks where enough space exists to lodge them. In case of an additional hole, you can opt to put a decorative plate over it or add an accessory.
Size
The faucet's height is perhaps the most important aspect to consider. This is because it helps in determining the size of pots and other vessels you can use under it without any friction. This can be the distance between the highest point and the base. Just ensure to have sufficient height for performing your chores smoothly.
If there is an arc, you should also check that out too. It specifies the spout's curve and height. A faucet that has a high arc is ideal for washing many big pots by hand. On the other hand, those with a low arc are meant for smaller sinks.
Faucet Style
For many, the appearance of the cooking area is of least significance. However, some care a lot about its aesthetics. Thus, as per the kitchen design, a faucet that blends with it well would be your top choice. Famous brands such as Delta and APPASO provide diverse models serving specific styles and designs.
The style of your faucet should be such that it matches your decor. Keeping this in mind, there are three primary styles for you to choose from:
Traditional: Is actually not a bland style but is a style that is inspired by European decors. It is for those who prefer sophistication, a vibrant look, and warmth. A faucet of this style usually will have a vintage glow. While the appearance is so, the features can be modern. As this is an ageless style, it will never go out of style. So, there is no fear of using an outdated faucet a few years down the line.
Transitional: Blends traditional and modern styles to give you the best of both worlds. A faucet of this style has a classic look but with a contemporary twist due to which there is much scope for decorative creativity. The underlying notion is to have neutral colors for a unique build or fixture. For example, a faucet made using stainless steel can go well with a cabinet of wood.
Modern: Is for the admirers of the latest technology such as motion detection. The underlying notion is to have more open space without compromising minimalistic design. Consider this design for a kitchen where all gadgets and tools reflect the latest style or technology.
Spout Style
Faucets in the market are available in a variety of styles for complementing your kitchen design.
The manner in which the faucet is designed determines how well you can use it. One such design aspect to consider is the spout style. This style will determine for what your sink will be most used. Here are the different spout styles to consider:
Straight, a long reach, and flat profile just as a conventional faucet
Gooseneck, featuring an arched, tall build to retain more space between it and the sink so that pots can fit well, there is more clearance underneath the faucet, and are generous to take up less room
Pull-down, a style that does not allow the spout to fall and is usually observed at the end of gooseneck models to replace a surplus sprayer
Pull-out, a style that is retained in position via gravity, as the sprayer and hose are connected at the most effective point of gravity on the faucet
Swiveling, a style in which the spout is linked to some spots for maneuvering it out of the way as required and is ideal for dual-bowl sinks
Shepherd's Crook, a curved style for enjoying maximum clearance
To have maximum functionality from a faucet, opt for a model that is connected to its hose. It usually has a spray head and is handy for reaching those vessels that cannot fit inside the sink.
Faucet Design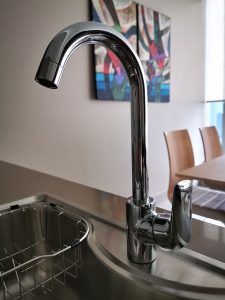 A kitchen faucet has one of the two designs: one-lever or two-lever. Of these two, the latter is believed to be fading with time. This is perhaps because of the fact that it has the only benefit of still being in use in case one of the handles stops functioning.
These days, single-lever faucets are durable. For those who are suspicious, a model with a motion-controlled mechanism is a wise choice to get rid of the risk of breaking.
Mounting Style
You should also consider how you wish to mount your new faucet. Well, there are two ways: With a deck plate or onto a wall.
A deck plate, also termed as an escutcheon, is detectable, as it keeps the handles as well as the spout upon it. Many users tend to choose it, making it a common choice. A faucet with a deck plate for mounting supports up to three holes for installation.
Another way is to mount a faucet onto the wall just over the sink. The biggest benefit of this mounting style is that it is a space-saving option. This means you can easily place pots in the sink. Further, cleaning becomes more convenient, as cleaning the countertop is easy.
Finishing
Let's assume that you have chosen a new faucet that blends well with your kitchen decor and design. At this point, if you think that it is the best model, you will have to think again. This is because there is one more feature that can fade this belief completely, which is the finish.
Not all finishes are equal even if their color is the same. This is because each finish provides distinct outcomes. You may know that a chrome finish looks good but then there is no idea of how it will look on a new faucet. Now, this is exactly what most brands are providing by giving a close-up of the finishing color.
This helps you to know whether the glossy or dull look of the finish would match with what is there in your mind. A few faucets are available in only a single finish due to which they may not be compatible with most decors.
Most finishes are such that they are resistant to stains, rust, and corrosion. This is what is responsible for a durable faucet that is also easy to clean and maintain. The following are the finishes for you to know and choose from.
Types of Finishes
Matte black, a common choice to set apart your faucets from those of the others and is a great option for modern kitchens
Chrome, the most affordable as well as a durable option that also retains its shiny appearance for a long time and has a silvery look to fit with any décor; brushed chrome version ideal for a matte touch; the only con being fingermarks whose removal needs regular cleaning
Nickel, a finish that blends conventional and modern look to blend well with even a classic kitchen décor; has a dark appearance in polished form and more durability in the brushed form
Stainless steel, a durable finish that uniquely ensures resistance to spots and watermarks
Bronze, a conventional option whose oil-rubbed version can be a fascinating choice
Build Material
Most modern faucets are built using brass after which they are wrapped with different finishes to shine well and match the different kitchen styles. Generally, the base material is brass, as it is composed of different elements such as copper, zinc, and even lead that are likely to mix with water.
Keeping in mind the adverse health effects of lead, the latest regulations have kept the maximum percentage of lead in faucets at 8%.
To prevent lead from mixing with water, brass is used as polished brass or satin brass. The former one has a vintage and vibrant appearance to suit any kitchen sink. It is also effortless to clean and maintain it. On the other hand, satin brass reflects a robust gold look. Go for it if you wish to upgrade your kitchen look.
Another building material used for faucets is copper. The biggest reason for choosing it is its inherent antibacterial properties. Thus, copper faucets are not only healthy but also are long-lasting.
Selecting the Best Kitchen Faucet Brands
There are so many brands out there due to which you can get confused as to which one is the ideal for you. Keeping in mind affordability and functionality, here are the reliable brands and their faucets reviewed for you.
This pull-down faucet from WEWE is undoubtedly the first choice of those on a tight budget. Yes, it is currently the most affordable and the best-rated kitchen faucet to consider without worrying about money and quality. This faucet proves that a cheap model is not necessarily cheap in quality and functionality. Without any question and right from the head to the bottom, this unit is among the best kitchen faucets in terms of practicality and functionality.
At first glance itself, its glossy, tulip design featuring a bar handle attracts your attention whose intention is also to give a modern look to the old kitchen. This look may trigger a misconception that installing this chic unit will be hard but it is just the opposite.
With just the basic plumbing skills needed, you can install it in a few minutes by pulling the hose and connecting it with the water pipe. You need only one hole for this installation. No technical knowledge is mandatory for this work. The maximum installation time is not more than 30 to 45 minutes.
Thinking of the installation tools and accessories? Well, you will be happy to know that this faucet is ready for it right off the box. The hoses are already assembled for easy installation due to which there is no need of calling a plumber. If you are a Do It Yourself (DIY) person, just half an hour is enough for you.
Functionality
Now, let's talk about its functionality. This WEWE faucet will make you forget the patterns of dual spray that esteemed brands such as Moen and Delta offer. This is because of its radical 3-way setup of its spray that can stream, spray, and pause the water flow. This means your multitasking has just got efficient.
The stream mode is useful for filling jars while the spray mode is ideal for rinsing things. The pause mode is handy for keeping splash at bay once the unit is multitasking. The 3-way modes become functional through the spout's end.
Just adjusting its tip allows using one of the three modes. You can even stop the water to halt its flow until the button is used once more. There is not much effort for beginners to put into using this faucet. The spout itself rotates at 360 degrees so that you are free to use and clean the faucet effortlessly. Further, the novel mechanical retraction ability puts the spray head back to its original position after use.
The single bar handle of zinc smoothly shifts laterally so that you can easily regulate the temperature and the volume of flow. A valve contributes to this adjustment of water temperature once you turn it right or left.
There is no incidence of irritating sounds or squeaking when you are using the unit. The integrated ceramic valve ensures a safe flow to keep leakage away. Further, for simple maintenance, the unit has a finish that is resistant to rust and corrosion.
Specifications
Model: 3T01L
Size: 15.7 inches
Dimensions: 22.7 x 11 x 3.1 inches
Hose: 23 inches long
Style: Contemporary
Type: Pull out/single handle
Shape: Curved
Body Material: Brass
Finish: Brushed nickel
Spout Material: Stainless steel
Spout Reach & Height: 8.5 inches
Sprayer Head: ABS
Aerator: ABS
Handle Material: Zinc
Valve: Ceramic
Water Modes: 3 – spray, stream, and pause
Spout Swivel: 360 degrees
Water: Hot and cold
Installation Method: Single-hole deck-mount
Warranty: 5 years
This is another affordable kitchen faucet but with a pull-down style. It boasts a fully patented design possessing the brand's original design. Refusing the artistic lethargy, this model reflects the distinctness to render a new view to you.
One of its key distinct characteristics is its safe build. This kitchen faucet is designed using lead-free materials, has received IAMPO certification, and has is complied with NSF/AB1953 directives for being lead-free.
Right from the handle to hose and finish, everything is free of toxic ingredients. This assures you of a healthy faucet. You also are assured of solid construction, as the body is made up of durable and commercial 304 stainless steel.
This is wrapped in the cover of NSF-certified zinc alloy having many layers of brushed nickel. The hose too is made up of a material that is resistant to high pressure as well as temperature. It is flexible enough to extend to a big sink.
The hose also possesses a distinct self-retracting technology. It regains its original position automatically for safe docking. Due to the ball joint, the sprayer is no less than a free magic wand.
Modes
This touch faucet provides three flow modes namely, stream for filling, spray for strong wash, and pause to stop the flow to prevent waste at any time. The nozzle is of genuinely high quality, which is evident from its touch and feel. Just a gentle finger touch and you can discard calcium and limescale.
The elegant single-handle design is convenient to use. The ease of use is also contributed by the precise regulation of cold and hot temperatures.
Do not be carried away by the strong build and convenient use and start believing that installation can be tough. Rather, it is pretty easy, as there are just four simple steps to follow.
The credit goes to the unit's quick-in system that even eliminates the need to call plumbers or use special tools. Overall, it takes only around 20 minutes to complete the installation on your own.
The PVD brushed finish with sufficient thickness of nickel layer and multi-layer galvanized metal finish contain nano ingredients to keep spots and marks away. Even the ceramic cartridge is a part that will last for more than 10 years, as it has passed a stringent cycle test for the same.
Specifications
Model: 123BN
Dimensions: 22 x 9 x 2.8 inches
Hose: 20 inches
Type: Pull-down, single handle
Shape: Gooseneck
Body Material: Heavy-duty 304 Stainless Steel
Nozzle Material: ABS
Aerator Material: ABS
Valve: Drip-free, ceramic
Finish: PVD brushed nickel (Also in matte black and oil-rubbed bronze)
Spout Reach & Height: 9 inches and 7.3 inches
Flow Rate: 2 GPM
Swivel: 360 degrees
Water Modes: 3 – spray, stream, and pause
Installation Method: Deck-mounted
Accessory Connection: 1/2-inch connector
Warranty: 5 years (limited), 90 days money-back guarantee
Compliance: IAMPO, NSF/AB1953 for lead-free build
Kitchen sink faucets from OWOFAN are known for their reliably consistent performance, which is the result of a strong metallic build. One such faucet is this one featuring a pull-down design and a single handle, all reflecting a lush feel across a solid construction. It is truly an abode of cleaning power.
The metal build makes this faucet resistant to water, corrosion, and stain. It is also lead-free, which means that the faucet is environment-friendly, kid-friendly, and even pet-friendly. The black matte finish makes it resistant to scratches, which means you will see no blemishes due to spout staining.
The brand has used superior materials in making this faucet. Its ceramic cartridge is also of a high quality due to which there are not many leak points and is easy to install.
Even the supply lines of stainless steel have got security certifications. Thousands of tests have been performed on the ceramic valve and handle to ensure not only lasting but drip-free functionality.
The pull-down viable design with an adaptable hose is just a breeze. The compact height is such that fits underneath any cabinet or on granite countertops. The flexible sprinklers are fully spinnable up to 360 degrees due to which you can easily access the different sink areas.
You can enjoy the faucet for all your requirements, such as moving the spout to the wall once the job to be done expands the sink space. The fully swiveling spout and nozzle are just perfect for a single or double bowl.
Multi-function
The faucet also has dual function capabilities in the form of spray and stream modes. You can expect an aerated stream along with robust cleaning and rinsing performance.
The multi-functional spray wand allows you to move from spray to stream conveniently for a powerful flow. The spray holes are such that they can easily wipe away the mineral deposits to retain a fresh look quickly.
The single-handle design contributes to flow volume as well as water temperature control. Cleaning this faucet is a breeze, as the premium brushed nickel layer resists several abuses such as tarnishing and rusting. Even fingerprints and water spots are not allowed to stay back.
Installation too is easy and simple. There is no need for a plumber, as for a DIY enthusiast, this model is shipped with all mounting gear including water hoses.
Specifications
Model: 9009R-A
Dimensions: 17.9 x 11.6 x 2.9 inches
Hose: 23.6 inches
Style: Commercial
Type: Pull down/single handle
Shape: Curved
Body Material: Solid brass
Finish: Matte black (Also in black and brushed nickel, square black, brushed nickel, and brushed nickel pull out)
Handle Material: Metal
Spout Reach & Height: 9.05 inches and 3.90 inches
Valve: Ceramic
Flow Mode: Stream and spray
Supply Lines: NSF and CUPC certified
Spout Swivel: 360 degrees
Flush Type: Dual
Installation Method: Surface mounted
Warranty: Lifetime free replacement, 90-day money-back policy
Delta is one of the most esteemed and instantly identified kitchen faucet best. It is recognized for its high-quality products, of which the Leland collection is pretty popular. The Delta Leland is a great alternative to consider to more expensive Moen Arbor.
This one is a mid-price unit available in integrated-valve or two-hole form so that you can have a blend of the standard style and modern functionality. When you first look at it, the appearance may seem modern. However, that is not the only draw.
The most distinct characteristic of this faucet is its diamond seal technology. It employs patented ceramic discs (valves) that are embedded with diamonds to keep leaking at bay.
The charm of this technology is in the fact that the discs need no oiling or lubrication due to which tear and wear will be in control on seals.
Being exclusive to Delta, this technology ensures that the faucet is designed to last much more than what the industry standard is, giving commitment to durability as well as great value for money.
Another striking feature is the ShieldSpray technology, a novel ability to handle burned as well as stubborn stains easily. The faucet not only sprays and streams but emits a robust curtain of water for pushing the stains away without bouncing off or splashing all over the area. A robust jet of water shall possess the splash to reduce the washing time.
Known as magnet docking, this mechanism ensures that the spray wand is securely docked when at rest, is not susceptible to dropping with time, and is always accessible. This surely contributes to the faucet's longevity. The dual spray wand is so efficient that you can move from spray to stream instantly.
Versatility
The spray head is just not an average part. It is versatile just as other heads with its pulled-down hose. However, what makes it distinct is its touch-clean technology demonstrated through holes. You just swipe your fingers across these holes to push off lime and calcium accumulation.
This technology ensures that it is easy to wipe and take care of this unit without taking any maintenance burden. Thus, you can see this unit is always fresh.
Another unique ability of this faucet is to detect when the temperature changes while the water flows. There is a smart LED that changes color to inform you how hot or cold the water is. This is why you do not have to face uninvited experiences if the water becomes too hot or cold.
The high-arc neck moves in a full circular motion to ensure being tall enough to accommodate big pots. This is applicable even in the faucet's Touch20 form that a sensor on top and another sensor in front. This is where you just touch anywhere on the handle or spout to initiate the water flow at the temperature that the handle sets.
This utility is useful when hands are dirty. The faucet shuts off on its own after four minutes, which preserves water. This is a handy feature when there are kids or pets around.
Specifications
Model: 9178-SP-DST
Size: Standard
Dimensions: 11.5 x 10.4 x 14.8 inches
Hose: 20 inches long
Style: Standard
Type: Pull-down/touch/single handle
Shape: Curved
Body Material: Brass
Finish: Spotshield stainless, Arctic stainless, Chrome, Venetian bronze
Spout Swivel: 360 degrees
Spout Reach & Height: 9.2 inches and 7.5 inches
Flow Rate: 1.8 GPM
Number of Holes: 3
Installation Method: Deck mounted
Warranty: Lifetime
Compliance: ADA
This is the APPASO faucet to consider if the aforementioned model of the same brand is not your choice just because it has no magnetic docking. Yes, this is the main difference between the two although there is one more (revealed below).
This kitchen faucet seems to inherit almost all the features of the APPASO pull-down sink faucet. However, it separates itself by coming with a robust magnet that holds and secures the spray stick in its place.
As a result, the wand remains docked while resting and never sags with time. The hose is truly admirable for its self-retracting technology. Due to it, the hose easily restores itself to its initial place on its own for safe docking.
The other distinguishing feature lies in its flow modes. While the unit without magnet docking has normal three flow modes, this one replaces the pause mode with the blade sweep one. This apparently new mode is a robust part supporting high pressure while delivering a wide arc of water.
This flow totally sweeps away anything that is stuck on your utensils under wash. Thus, it eliminates the need to re-scrub anything by hand. It also sweeps away the same from the sink and its drainage pipes.
The other modes are namely, stream for filling containers and spraying for powerful washing. You can even expect this faucet to prevent hard water. For this, you are only required to give a gentle finger touch that will then remove the calcium and limescale deposits.
The overall build and design of this pull-down style add to longevity. The fully patented design keeps the APPASO's original design intact. The faucet is made up of safe materials, as they are free from lead.
Further Explanation

There is no toxic substance used in designing this APPASO faucet. This means that it is reliable even if your pets and kids use it. The full body is composed of commercial 304 stainless steel, which is durable and resistant to corrosion.
A layer of NSF-certified zinc with several coatings of brushed nickel covers the body. Even the hose is made using a strong material that keeps the impact of high pressure as well as temperature away. It is adaptable enough to spread to a large sink.
While the build is safe and strong, the installation is easy and quick. As a DIY, you will take only 20 minutes, according to the manufacturer. Yes, you do not need special tools or a plumber.
The PVD brushed finish, the ample nickel layer thickness with sufficient thickness, and multi-layer metal finish with nano ingredients are just powerful enough to keep fingerprints and spots at bay.
Apart from this, the faucet's longevity comes from its ceramic cartridge that seems to last for over 10 years, which has been proved after passing a strict cycle of tests. Thus, this faucet is also ideal for sinks even in the laundry, utility area, and garage.
Specifications
Model: K133-BN
Dimensions: 23.1 x 10.6 x 3.1 inches
Hose: 20 inches long
Standard: NSF
Type: Pull-down/single handle
Shape: Gooseneck
Body Material: Heavy-duty 304 stainless steel
Hose Material: PEX, high pressure as well as temperature resistant
Handle Material: Zinc
Nozzle Material: ABS
Aerator Material: ABS
Valve: Drip-free, ceramic
Finish: PVD brushed nickel (also available in other finishes namely, brushed gold, matte black, matte black and brushed gold, matte black and rose gold, and oil-rubbed bronze)
Spout Reach & Height: 8.5 inches and 7.5 inches
Flow Rate: 2 GPM
Number of Holes: 1
Flow Modes: 3 (spray, stream, and blade sweep)
Installation Method: 1- or 3-hole with deck plate covering
Warranty: 5 years (limited)
Compliance: IAMPO, NSF/AB1953 for lead-free build
This one is perhaps the most affordable pull-out kitchen faucet. The sleek design with brushed nickel finish by UFaucet is promoted as the best commercial unit having a single handle and working on a single lever. With this unit, you get the top pull-out features at the most competitive price.
Available in two finishes of stainless steel and nickel, this faucet can mix with any type of kitchen décor or setting. Controlling this unit is a breeze due to the single lever as well as the ease of mounting it during installation. Yes, the installation happens in no time; in fact, it just takes around 20-30 minutes.
One of the most appealing features of this faucet is its 3-piece design, which is unlike most other faucet designs. This is believed to be the most lasting design. Herein, the bottom and the top remain fixed, while the middle section rotates fully up to 360 degrees to fulfill all your requirements.
In the case of a double bowl sink, it becomes easy to move the head of the nozzle from left to right. This faucet comes with two nozzle head modes and an upgraded button due to which you can easily switch between stream and spray modes.
Functionality
The dual functionality in the form of spray and aerated stream water flow modes is convenient. You can switch to the one that is the best for you. Even the pull-out hose is long enough to reach the sink's edge.
For reliable durability, you will be pleased to have the brushed steel finish on the brass build. Due to it, this unit remains strong while keeping tarnishing and corrosion at bay. Even the ceramic cartridge contributes to a more stable and smoother flow.
The drip-free ceramic disc valves tend to exceed industry standards for durability by passing cyclic tests to last for life. There is lead in the waterway material, which adds not only to the durability but also to healthy use by pets and kids.
Even the supply lines are made up of stainless steel of high quality. The faucet comes with a removable deck plate that is suitable for sinks with one or three holes.
Overall, the different components of this faucet are sturdy. Although a bit heavy that actually is an indicator of its great quality, the faucet is safe and reliable to use.
Specifications
Model: UF-07L-QY-6
Dimensions: 16.9 x 10.5 x 3.1 inches
Hose: 20 inches
Type: Pull out/single handle
Shape: Tall gooseneck
Body Material: Solid brass
Finish: Brushed nickel (also available in stainless steel)
Handle Material: Metal
Spout Reach & Height: 7.1 inches and 5.5 inches
Valve: Ceramic
Flow Mode: 2 (spray and stream)
Swivel: 360 degrees, only the middle part
Connection: Standard 3/8
Number of Holes: 1
Certification: NSF and CUPC
Types of Faucets for Kitchens
To buy the right faucet, it is essential to know its varieties or types. This is the first thing for you to do even before searching for the best kitchen faucet brands. Once you know them, it becomes easier than ever to choose one as per your requirements by comparing their capabilities. So, here are the different types of faucets available.
Pull-down/Pull-out
Pull-down: These faucets are designed to have a sprayer that you can pull such that it comes near the cleaning area. This design is useful for performing a chore via rinsing. These smart and practical faucets usually have a longer, goosenecked spout and a taller arc. The former usually contains a small hose. Such an arrangement ensures better pressure and precision of spray head functionality with the hose slightly extending downwards into the sink. Thanks to such a spout, there will not be any stain or spot that you cannot remove effortlessly. These faucets are perfect for big or deep sinks or if there is much space over or around the sinks. They are also ideal to have when there are lots of dishes to clean and there is no clue from where to begin.
Pull-out: These faucets are derived from the pull-down ones as improved versions. They enable you to pull the full head out and turn it into any of the intended directions. Yes, the hose is flexible to bend and move around the sink from different angles. This is better than the pulling- down mechanism. These faucets are designed to possess a longer hose and a shorter spout than usual. Such a mechanism is handy when there are bigger pots to fill than the sink. You can easily position them on the countertop and extend the hose to their mouths. This is why these faucets are more popular for their better flexibility and are usually installed onto a double or a small sink for even cleaning areas around the sink.
Single/Double Handled
Single-Handled: These faucets, as the name indicates, have a handle that swivels at sides for regulating the flow as well as the temperature of the water. They are ideal for those whose priorities are ease of use, easy installation, and simple design. You can push or pull the handle to turn the unit ON or OFF to enjoy one-hand convenience. While installing these faucets, ensure that there is sufficient clearance at their rear for allowing the lever to move fully. This is because, at times, these models have a longer lever than usual whose motion gets hampered for being very near to the wall. These models are for one-hole installations and ensure a strikingly minimalistic appearance. They usually have a tall and curved spout to fill deep pots. This spout appears ideal when kept at the sink's center.
Double-Handled: These faucets, as the name suggests, have two handles to give you hot and cold water. They control the temperature of hot and cold flow separately. As for the available kitchen space, you may buy a model that has a swiveling spout to move it out of the way when not in use to have more washing space. These versions are available in different styles and sizes. For example, you can easily find a tall and arched one or the one that extends into the sink. You may even choose a traditional one with two separate pieces or an all-in-one design. They are also available in a variety of finishes that make them glossy while protecting them from rust and tarnishing. While investing in these faucets, do check the valve type. As the cheapest option is irresistible, it is likely to make you invest soon in a faucet if it is a compression valve.
Wall-Mounted
Wall-mounted: These faucets usually have two handles and are mounted on the walls with a position above the sink, as the name indicates. They are also called pot filler faucets and are useful for big pots that do not fit in a sink or under a normal faucet. They are perhaps the handiest models around. Consider this type if your sink is already into the worktop in which you do not want to make holes. It is also a perfect choice if you do not want a faucet in your way when it is not in use. The spout is hinged in more than one place for easy folding. The pipes remain hidden in the wall, while the configuration is just a one-hole installation. This means that either cold or hot water can be supplied. It is possible to turn the spout out that can extend up to 20 inches.
Touch Faucets: These faucets are getting increasingly popular due to their groundbreaking technology that facilitates super ease of use. As indicated by the name and tagged as motion-detect faucets, they trigger the flow the moment you touch them. Now if you touch again, the flow stops. Thus, this mechanism is ideal for those with dexterity issues or who have aged people or kids at home. However, these faucets are expensive.
Touchless/Hands-free
Touchless or Hands-free: These motion-detect faucets are the latest, state-of-the-art units that work without the need for any human intervention. Yes, there is no need to touch with hands, as they detect nearby hand movements using an infrared sensor. In simple words, just keep your hands over the sensor. Once the movement is detected in close proximity, a stream of water is initiated. In this way, it is hygienic to use these faucets. There is no risk of bacteria spreading from waste handling and uncooked meats. These models are also ideal for those who do not want to keep cleaning the units most of the time. Most models come with a single spout and a temperature control handle.
Types of Faucet Valves
A valve is undoubtedly a key part of a faucet regardless of the brand, type, or build. This is because it is what controls the flow as well as the temperature of water flow. Thus, knowing the different types of valves is as important as knowing the various types of faucets. Following are the different types of valves.
Valves
Compression: Is the widely used valve, as it is the most economical one in terms of money. It comes with a handle for ensuring the desired control by adjusting the washer and locking the valve seat at the bottom of the stem. Some leakage is expected from the washer but then a simple fix is a reliable solution.
Ball: Is most commonly seen in faucets in the kitchens. A circular cap links a handle to the faucet's base. This handle looks similar to a ball and features slots for adjusting both temperature and flow. The biggest selling point here is the washerless design, which for a user, translates to little care or maintenance. However, this does not fully eliminate the risk of leakage due to the presence of so many parts.
Cartridge: Is a type of valve that is seen in models with single or dual handles. This indicates that you can easily choose. It features a washerless design and replaces a typical rubber disc with hollow brass and plastic makeup. Faucets with a cartridge valve will have Orings in their base, which act as a lasting seal. While a stem cartridge ensures regulation by turning left or right and up or down, a cartridge valve with two handles is much like a compression model. Nevertheless, there is no need for pushing it strongly to put it OFF. Overall, cartridge valves are known for their easy installation, good leakage resistance, and easy repairability.
Disk: This is a modern design seen commonly in state-of-the-art kitchens. There is a body similar to a single lever and a broad tube. It contains a few ceramic discs and an extensive cartridge, both of which are tight and movable for controlling the flow and temperature. This type of valve is unbelievably durable and unbreakable.
Things to Consider before Investing in the best kitchen faucet brands
Now that you are aware of the different types of faucets and their valves, it is common for you to find out next: Which is the best kitchen faucet brand designed for kitchen sinks? Well, before looking for it, did you know that there are some things for you to consider?
Well, these are the things to consider for choosing not only the best faucet but also the best faucet brand. When you consider them, you are actually getting familiar with your prerequisites and requirements.
Thus, considering them is a vital step that you should not miss if you want a durable, sink adaptable, and affordable deal. It is a step to prepare yourself to get rid of any costly venture or unfitting model. With it, you get an idea of what will work perfectly for your kitchen. Here are these things to consider.
The Type of Sink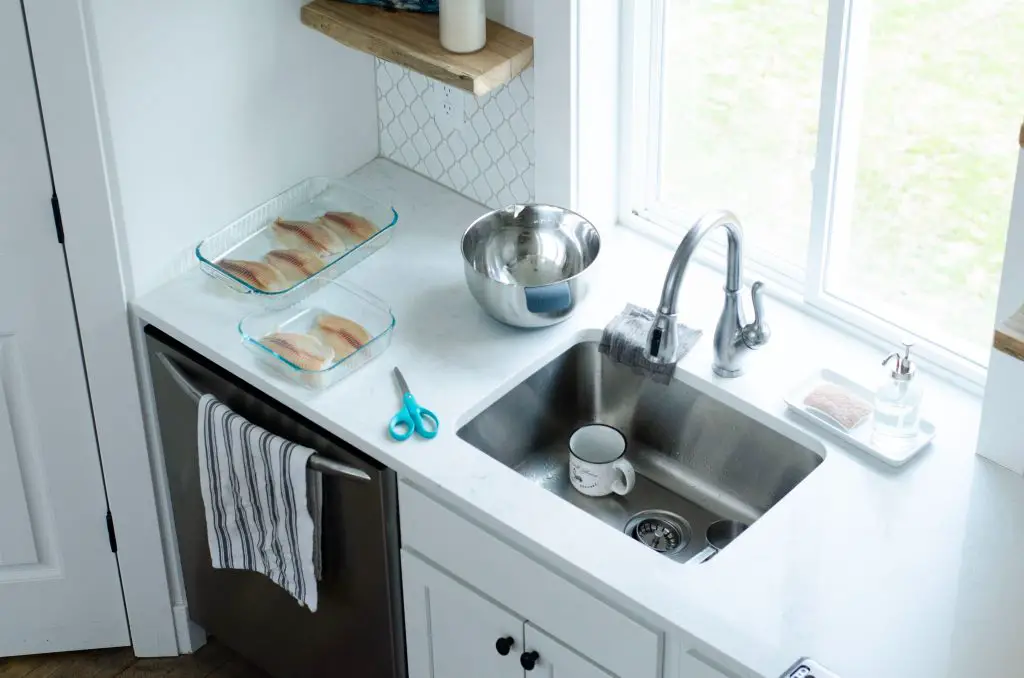 It is sensible to buy a faucet that will fit or adjust to your existing sink. Interestingly, several types of sinks are in use today apart from the ones made up of stainless steel. Undoubtedly, stainless steel is a clear leader and is installed more than any other type of sink.
Obviously, this trend is not going to change anywhere in the near future, as the metal is highly versatile to offer single and double sink varieties and under-mounted or top-mounted installation options, sturdy, and is affordable to manufacture.
Thicker stainless steel, although not so common, is a better alternative only if it is from a top brand. However, the only plus point to invest in high-quality steel is the inherent sound dampening effect, as using this material is likely to be quite noisy.
The noise-making effect has been kept at bay by spray coating, which cheaper versions may not have. The pitfalls of sinks made up of stainless steel are more scratches and clearer water spots than other sinks.
A trending alternative to steel is quartz or granite composite when it is the matter of kitchen sinks. As these materials are resistant to stains and scratches, they are more expensive than stainless steel. They are also the most durable ones.
Now that you know the sink type and material of which it is made, you can have an idea of which type of faucet can fit. You may choose a faucet with stainless steel or a chrome finish for a steel sink. If the sink is quartz or granite, you may choose another faucet that goes well with it.
Design
Different faucet and sink designs exist but not all faucet designs are compatible with sink designs. So, when you look at your sink, you can easily find out the available number of mounting holes for installing the desired faucet.
If the present faucet possesses a mounting plate, just look beneath the sink to know the number of holes. The package of any faucet will show the number of mounting holes required for installation. Most faucets come with one to four holes for installation.
A few faucets com with more than one hole to adapt to different sink configurations. If the sink has three holes and the new faucet chosen has two holes, you need to think about what should be done about that third hole.
One more thing to consider is the location of the holes. Usually, a faucet is near the middle of the sink. However, this is not true always. If the new faucet is to be installed on the sink's side, the spout must be sufficiently long to reach the opposite side. If there are corner holes, a pull-down spray nozzle with a tall spout is one more option to choose from.
Water Lines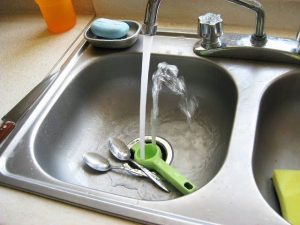 It is important to ensure that the new faucet you choose should be compatible with the lines supplying water. Prior to shopping, just notice beneath the sink and observe the size of the waterline as well as of the shutoff valves.
Now, when you choose a faucet, find out whether it is attached to 3/8″ flex lines. If the prevalent shutoff valves are hand an inch in size, it is mandatory to replace them with 3/8" valves prior to installing a new faucet.
It is actually wise to do so, as the existing valves could be old enough to fail when you shut them off. You need to know about the required water pipe size for the new faucet.
FAQs
Can I myself install a new faucet?
Frankly, installing a faucet on your own is a daunting task. However, the good news is that the latest models are such that you can install them on your own and start using them. They come with detailed installation instructions due to which there is no need for a plumber or special or complex tools.
Assuming that the sink piping is working well, you can go ahead and install the new faucet yourself. However, before that, it is mandatory to turn off the water. If you miss this step, the surrounding area can get much wet and damaged.
Usually, once the faucet is installed correctly, you will need some adjustable wrenches, caulk, a basin wrench, and supply lines for patching up. For any doubt in between the installation process, it is always wise to consult a local expert.
I use the kitchen sink faucet innumerable times in a day. So, what type of faucet should I select?
The faucet design and functionality are the two primary features you want to check out for selecting the best faucet for your kitchen. You want to ensure that the new model that you buy can support all your desired chores such as rinsing veggies, cleaning dishes, and filling pots. After all, functionality is the most important buying factor.
Thus, you should select a faucet that allows you to do all the sink chores efficiently. You should also see to it that the faucet blends well with the sink and home décor. For example, a kitchen in green color will not match with a faucet in black color. So, you should have the best blend of design and functionality to make all your daily chores pleasant as well as efficient.
Should I buy a long faucet?
It is not required to buy a tall faucet but it is required to buy a functional one. Typically, the length of five to nine inches is sufficient.
How to know whether my new faucet is efficient or not?
A good faucet has a minimum high pressure or flow rate of 1.5 GPM, which shows its maximum efficiency at 2.2 GPM. Such a faucet is efficient, as it consumes lesser water and yet renders sufficient pressure for hassle-free washing. Thus, just check the GPM of your new faucet.
Most upscale faucets have 2.2 GPM as their flow rate, which is controlled to restrict the amount of water to be released from the faucet. If conservation is your priority, it is wise to choose a faucet with a lower GPM rate. The standard rates are 1 and 1.5 GPM but they can fall up to 0.5 GPM. The lower the rate of water flow, the more water you will save.
Is it necessary to flush the water lines of my sink prior to installing a faucet?
It is necessary to flush the lines so that there is no risk of casualty while installing a faucet. Further, you are also ensured that there is clogging induced by residue, which can then cause unpleasant performance or leakage.
Should I install a decorative plate faucet?
As the name suggests, a decorative plate has an aesthetic appeal. However, the decision to install it or not is based on many factors. For example, you need to consider your kitchen style to know whether it is necessary to mount the plate or not.
If the kitchen look is rustic or conventional, you may not opt to mount the plate. However, if you wish to add a stylish touch, mounting a plate is a wise decision.
You may also choose to install a plate for hiding a countertop dent. However, just go with a plate that the manufacturer has recommended so that it fits well.
It is worth knowing that a decorative plate is also known as an escutcheon that is commonly used to mask unpleasant holes taking place at the time of installing a single-handled faucet. Covering these left holes is a must in order to retain the clean kitchen look.
Not necessarily that a new faucet must come with a decorative plate. Thus, while investing in one such plate separately, just ensure that it is compatible with the faucet you brought.
What should be the number of holes in my counter or sink for mounting a faucet?
The precise answer to this question is dependent on the faucet you choose along with the accessories you wish to install. Considering the fact that faucets come in different configurations, installation is likely to require one to four holes. Most manufacturers make models that need up to four holes.
One hole is required for a single-handle faucet, while two are essential for two-handle faucets. It is wise to ensure that the new model you choose has a mounting configuration that is similar to the prevalent one.
How should I clean my kitchen faucet?
You should clean the faucet daily with the help of dish soap and a warm water solution. After washing it thoroughly, allow the faucet to dry. For discarding grime, just mix and use the solution of white vinegar and hot water (in the ratio 1:1).
However, before using it, just apply a few drops to check that there is no harm caused to the surface finish. Usually, it will not harm but it is wise to perform this test.
The exact cleaning solution to use will actually depend on the faucet finish and the type of faucet you choose. Ensure that you go through the instructions of the manufacturer's manual to know what is the most recommended method of cleaning. As a rule of thumb, it is best to avoid harsh solutions.
A good faucet usually comes with characteristics that make cleaning a breeze. When it comes to cleaning a spray head, it is worth doing so once a month.
How long a kitchen faucet lasts?
Most kitchen faucets are durable, as they are made using tough materials such as stainless steel, brass, and alloys. Those made up of brass are typically layered with an elegant finish such as chrome. A new faucet is likely to last up to 15 years.
How do I distinguish between a pull-down or a pull-out faucet?
A pull-out one comes with a removable head that comes forward when you extend the hose. It is perfect for spraying water in corners where it is otherwise difficult to reach. On the other hand, a pull-down faucet works in a bit different manner.
While the head is pulled downward, the range of motion is not equivalent to a hose. Thus, it is not that adaptable as a pull-out sprayer. On the plus side, there is not much mess, and that you can easily control this faucet.
Verdict
When it comes to choosing the best kitchen faucet brands, you are certainly looking for optimal pleasure in terms of budget as well as functionality.
If you are one of them, we highly recommend the budget-friendly faucet from WEWE featuring a high arc, single handle, a pull-out design, brushed nickel, and 5-year warranty time. This faucet provides you with all the functions that the luxurious or big models tend to offer.
The remaining models are also not that pricey but they are typically pull-down designs. You can choose any of them if you have decided to choose this design.
So, we hope this kitchen faucet review has helped you in selecting the right faucet. While going through the reviews and searches, ensure that you consider everything mentioned in the aforementioned buying guide to maximize your comfort, safety, and convenience.
Resources
https://en.wikipedia.org/wiki/Faucet_(disambiguation)
https://en.wikipedia.org/wiki/Tap_(valve)
https://en.wikipedia.org/wiki/Sink
https://www.encyclopedia.com/science-and-technology/technology/technology-terms-and-concepts/faucet